It was a short week because of the U.S. Thanksgiving holiday. Nonetheless, I have a few interesting items to report.
Companies and Products
Analog Devices (ADI) reported fiscal Q4 and 2017 revenue. Market growth and the Linear Tech acquisition raised full-year revenue to $5.1 billion, 49 percent above the revenue in fiscal year 2016. By segment, communications grew 33 percent year-to-year, industrial 57 percent and automotive 45 percent.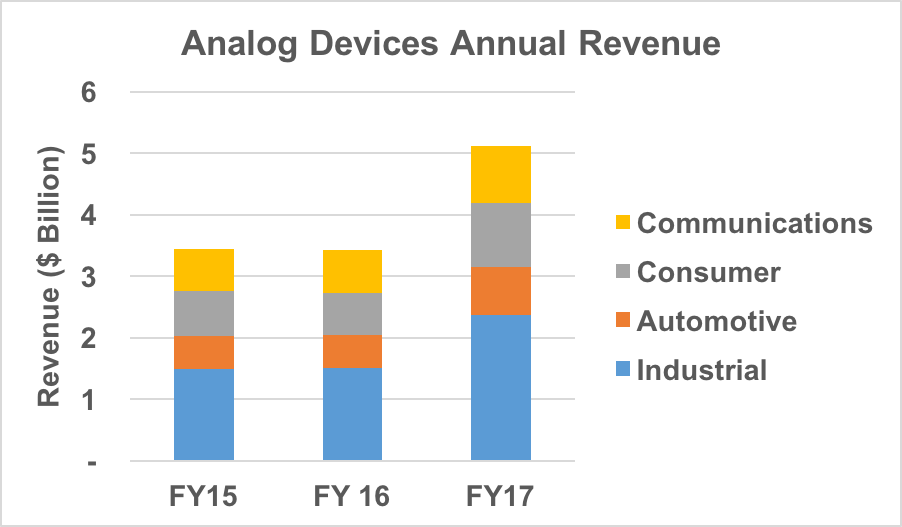 During ADI's earnings call, CEO Vincent Roche shared his outlook for the wireless infrastructure market. Listen to his comments:
Mark Pierpoint will temporarily lead the Keysight Ixia Solutions business until a permanent replacement is found for current president Bethany Mayer. She will leave Keysight December 1; she served as Ixia's CEO prior to Keysight's acquisition of the company.
Antenna start-up Kymeta demonstrated the KĀLO mobile internet via satellite service with a 7,000 mile road trip across the U.S. A RAV4 outfitted with Kymeta's antenna was connected to the internet throughout the drive. I wonder where they stopped for Thanksgiving dinner.
Skyworks is supplying RFICs to XY Findables for the XY4+ Bluetooth item finder. According to XY, the average person spends some five hours per month searching for misplaced items. You, too?
Markets and Technology
Cellular/5G — To provide cell service to hurricane-damaged areas of Puerto Rico, AT&T has been testing an LTE base station mounted on a drone — which they dubbed a flying COW (cell on wings).
The FCC report from November 24 said 29.8 percent of Puerto Rico's cell sites are out of service, and 19 out of 78 counties have greater than 50 percent of their cell sites out of service, after being devastated by Hurricane Maria. Read the full report.
KnowMade, a Yole Developpement company, published an analysis of acoustic filter IP. The proliferation of cellular bands is driving filter growth in smartphones, now the fastest growing and highest volume RF segment, attracting start-ups like Akoustis and Resonant. Read Microwave Journal editor Pat Hindle's assessment.
Watch an informative video tutorial by Zahid Ghadialy on cellular infrastructure. Without diving into deep networking, he gives a functional overview of macros, distributed antenna systems and small cells.
In another 5G milestone, China Mobile, Qualcomm and ZTE demonstrated an end-to-end 5G new radio data connection based on 3GPP release 15, the first such demonstration according to the companies. The 3.5 GHz, 100 MHz bandwidth link complied with the 5G NR layer 1 framework.
Broadband — Details of the FCC's proposal to end net neutrality are emerging. The proposal will allow ISPs to charge for "fast lanes" as long as the ISP tells consumers and allows oversight by regulators. The FCCs vote is expected by mid-December.
Autonomous Vehicles — Uber announced a deal where it will purchase up to 24,000 self-driving Volvos for its ride-hailing service, once the self-driving technology is ready.
This interesting podcast profiles a few of the start-up companies trying to capitalize on the autonomous vehicle market. How real is this technology? Listen and you'll hear a few frank assessments.
Tesla unveiled the company's anticipated electric truck with semi-autonomous capabilities. The vehicle has a range of 500 miles at highways speeds and can carry a maximum weight of 80,000 pounds. Using Tesla's autopilot system, several trucks can convoy or "platoon" down the highway.
Industry Events — The fall ARMMS RF and Microwave Society conference was held 13-14 November in the U.K. Microwave Journal international editor Richard Mumford attended and shares his perceptions.
---
Thoughts? Please leave a comment below.