Here's a recap of news from the past week that caught my attention:
Companies and Products
To strengthen its advanced driver assistance capabilities, Analog Devices acquired the light beam-steering technology from Vescent Photonics. Vescent's non-mechanical beam steering enables integrated LIDAR systems that overcome many of the drawbacks of mechanical approaches, such as reliability, size and cost.
Anokiwave announced a collaboration with GlobalFoundries, which will give Anokiwave early access to the foundry's SiGe technology. Anokiwave is developing ICs for millimeter wave active arrays. SiGe's functional integration allows the beam steering ASICs to reside within the lattice of the array, enabling low profile, planar arrays.
Ethertronics unveiled two V2X smart antennas that cover the U.S. and European DSRC bands. One antenna is designed for external mounting and achieves 5 dBi peak gain. The second is designed for surface-mount applications, with a 3.5 mm profile.
Infineon and InnoSenT released a 24 GHz, surface-mount radar capable of measuring speed and direction of motion. The SiGe transceiver includes a low phase noise VCO with built-in temperature compensation.
Keysight Technologies announced fiscal Q4 revenue of $751 million, a decline of 1 percent compared to the prior year's quarter. All of Keysight's business segments were up year-over-year except for A&D. Full-year revenue was $2.9 billion, 2 percent above the prior year.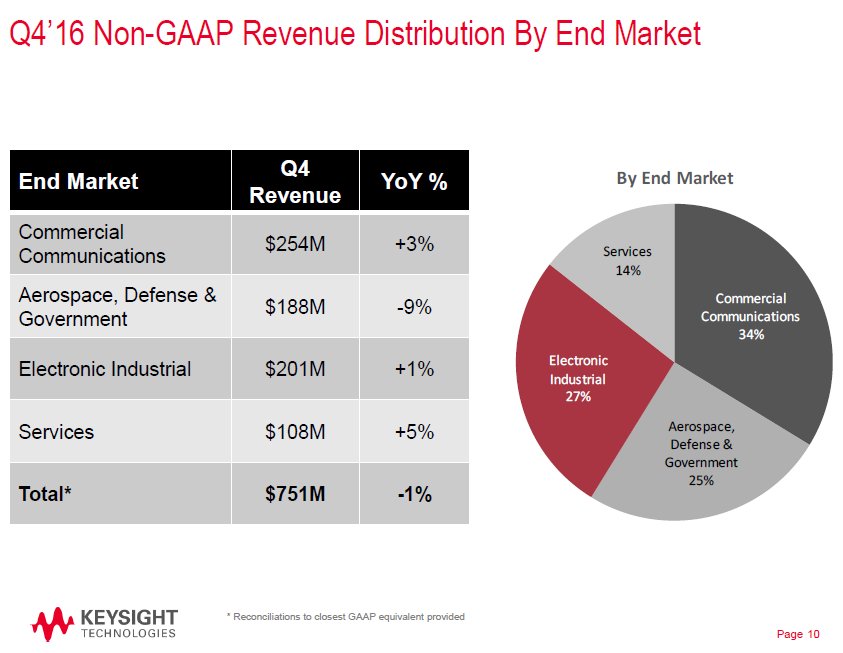 During the earnings call, Keysight management reported strength in 5G and the new generations of WLAN. Listen to their comments:  
MACOM also reported fiscal year financial results, growing fiscal 2016 revenue 29 percent to $544 million. The networks segment contributed 72 percent of the year's revenue, with the other two segments — A&D and multi-market — both at 14%.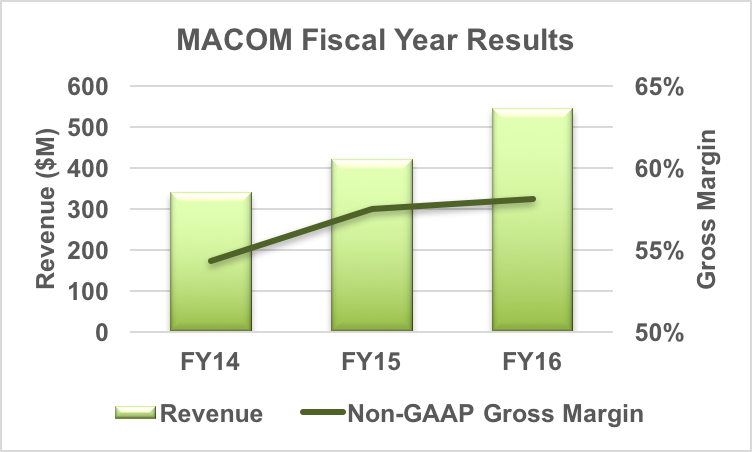 Highlights of MACOM's earnings release were completing process qualification of their Gen 4 GaN on Si process, receiving POs for 1.8 and 3.5 GHz base station PAs and winning a preliminary injunction that stops Infineon from using GaN on Si IP.  Listen to John Croteau's commentary during the earnings call; Croteau is MACOM's president and CEO.
Qorvo received Best Collaboration Partner and Core Partner awards from Huawei, recognizing their contributions to Huawei's mobile phone and infrastructure products.
Remcom released Wireless InSite® MIMO, radio propagation software that simulates the multipath of large MIMO systems without incurring the commensurate computation of ray tracing methods.
Siemens announced it will acquire Mentor Graphics for $4.5 billion. The deal increases Siemens' digital presence in the industrial market and rewards Paul Singer, an activist investor who felt Mentor was undervalued.
SpaceX filed an audacious proposal with the FCC for a LEO constellation of 4,425 satellites. The constellation will provide broadband communication services. Read the technical description of the system:
2016-11-15 SpaceX Technical Attachment by speedybits on Scribd
Teledyne Microwave released a 6 to 13 GHz YIG-based synthesizer. The unit has a USB interface and simple "set frequency" command for setting frequency with a PC. Typical phase noise is −95 dBc/Hz at 10 kHz offset, and the output power is +10 dBm minimum and +16 dBm maximum.
It's business as usual for ZTE, at least for another three months. The Bureau of Industry and Security (BIS), the U.S. government's export control agency, granted ZTE a license extension until February 27. In March of 2016, BIS stopped U.S. exports to ZTE, alledging that the company was intentionally violating U.S. export laws.
Markets and Technology
5G — The GSMA called on governments to harmonize their spectrum to ensure adequate global bandwidth for 5G services. They recommend common allocations in bands below 1 GHz, between 1 and 6 GHz and above 6 GHz.
Qualcomm announced its first 5G new radio (NR) spectrum sharing prototype. The prototype will work with Qualcomm's new radio prototype to access licensed, unlicensed and shared spectrum to improve 5G performance.
Cellular — Rajeev Suri, Nokia's CEO, sees the softness in mobile infrastructure continuing in 2017, which is similar to Ericsson's view. However, he says Nokia will outperform Ericsson.
Ericsson published the latest edition of their Mobility Report. They forecast 550 million 5G subscriptions by year-end 2022, an increase from the last edition. However, their forecast for IoT connections is lower. Read a summary of the report written by Mobile World Live.
Autonomous Driving — NXP and DAF Trucks, TNO and Ricardo recently demonstrated truck platooning and intelligent traffic lights in Munich. Using V2X technology, the team achieved a platooning distance of 0.5 seconds between trucks — 11 m separation at 80 km per hour. The team's goal is to reduce the minimum distance between trucks to 0.3 seconds or 7 m at 80 km/h.
China — James Fallows, one of my favorite journalists, writes about changes in China's development, asking whether the U.S. should change its China policy. If the campaign rhetoric is to be believed, the Trump administration will definitely be considering a reset.
---
Your feedback about content is always welcome. If you have a topic that you'd like to see in the weekly report, please send it to me at glerude@mwjournal.com.
Have a good week. Make some news.