Here's a sampling of news from the past week that I think you should be aware of.
Companies and Products
BAW filter start-up Akoustis reported record performance metrics for their single crystal piezoelectric material: a Q of 2,914 and a figure-of-merit of 152. Also, the company recruited Rohan Houlden to be engineering VP, responsible for BAW filter development.  Previously, he was GM of the connectivity business at Qorvo, responsible for CPE Wi-Fi, smart energy and automotive products.
Anritsu released software to measure the next generation of mobile receivers, covering all downlink 3CC (component carrier) CA (carrier aggregation) combinations (up to 256-QAM and with 4x4 MIMO).
During 2017, AT&T will conduct a three-phase trial of 400G Ethernet (400GbE) across its long-haul and metro networks.  
Broadcom is buying Brocade Communications for $5.5 billion. Broadcom wants Brocade's Fibre Channel storage area networks business and will sell the IP networking business, which includes Ruckus Wireless.
e2v launched a 6 Gsps DAC that is capable of generating signals to 26.5 GHz without up-conversion. The EV12DS460 has user settings to optimize performance and is equipped with four output operating modes and an option for program pulse shaping.
IDT released a SPST, absorptive, "constant impedance" switch that covers 30 MHz to 8 GHz. Releasing IDT's quarterly results, CEO Greg Waters said they see continuing weakness in the base station infrastructure market; however, IDT expects to grow share from their new RF and timing products. Listen to Waters' comments:
Inphi is acquiring ClariPhy Communications for $275 million. This will add digital signal processing capability to Inphi's electro-optical components portfolio.
MACOM won a preliminary injunction against Infineon, halting Infineon's use of GaN-on-Si for certain RF fields. This preserves MACOM's rights until the court can make a final ruling on the merits of MACOM's suit.
National Instruments will supply the channel emulation testbed for DARPA's Spectrum Collaboration Challenge. The Colosseum testbed has 256, 80 MHz I/Q channels for real-time emulation, providing a common tool for the three-year competition. The teams are vying for $3.75 million in prize money from DARPA.
In harmony with IDP, NXP reported their RF power revenue declined, relecting the soft base station market. Listen to Rick Clemmer, NXP CEO, comment about NXP's view of the base station market:
Qorvo reported Q2 fiscal 2017 results. Driven by strong smartphone demand, revenue grew 24 percent sequentially and 22 percent year-over-year to $865 million. However, their margins were hurt by poor TC-SAW yield. Contrary to IDT and NXP, Qorvo is seeing a recovery in the base station market.
Skyworks reported $835 million in revenue in fiscal Q4, up 11 percent sequentially and down 5 percent from the prior year's quarter. Full-year fiscal 2016 revenue was $3.3 billion, just 1 percent above fiscal year 2015 results. Skyworks generated $1.1 billion in cash from operations.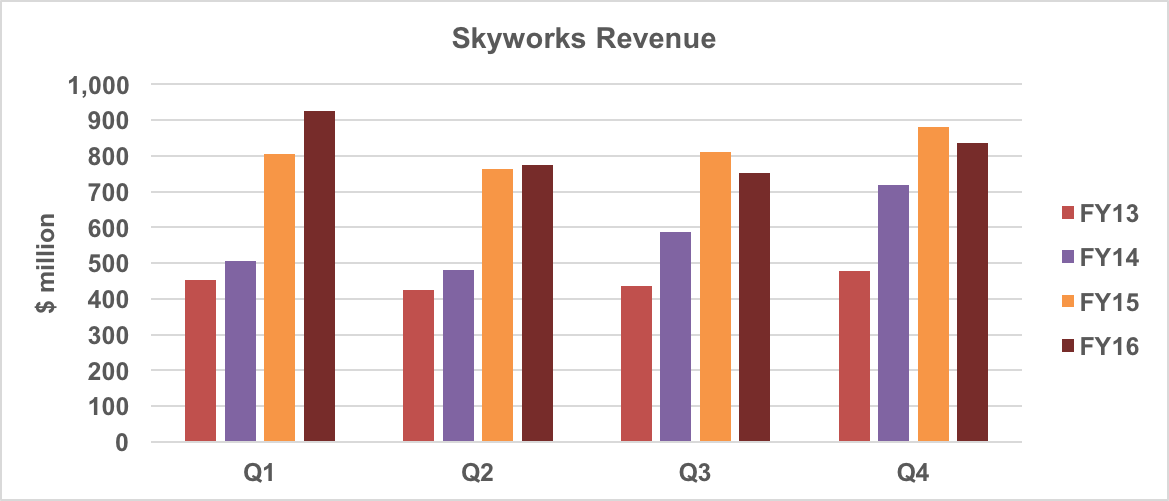 Bloomberg reported that Skyworks is seeking to acquire Microsemi. The solicitation prompted Microsemi to engage a banker to run a formal sales process.
Markets and Technology
Broadband — During the earnings call, Alphabet's CFO affirmed Google Fiber's commitment to broadband, saying they are pausing only to "better integrate" new technology — interpreted as meaning a move to millimeter wave fixed wireless.
More broadband via fixed wireless: Windstream announced plans to serve 40 U.S. markets using 39 GHz spectrum owned by Straight Path and equipment from Cambridge Broadband Networks.
Broadband access to the internet will enable "second cities" to become hubs of innovation. Think Manhattan, Kansas, not New York. Wall Street Journal article.
Autonomous Driving — Imagine gridlock in a world of defensive self-driving cars, as pedestrians intimidate them. That's what game theory predicts.  
Final Thoughts — What is motivating the consolidation of the semiconductor industry? SunnyInPDX argues the future is bleak for IC component suppliers.
---
Your feedback about content is always welcome. If you have a topic that you'd like to see in the weekly report, please send it to me at glerude@mwjournal.com.
Have a good week. Make some news.