Here's a sampling of news from the past week that I think you should be aware of. It was a busy week and hard to catch everything.
Companies and Products
Apple reported strong demand for the iPhone 7, exceeding their supply chain's manufacturing capacity. The company shipped 45.5 million iPhones in the September quarter (fiscal Q4), which only included about a week of iPhone 7 shipments. Apple forecasts a return to year-over-year revenue growth in the current (December) quarter.
Anokiwave announced the appointment of Vince Pelliccia as VP of business development. Previously with MACOM, Pelliccia joined Anokiwave in March.
Ericsson's board named Börje Ekholm the new president and CEO, effective January 16. He has served on Ericsson's board for 10 years, causing some to ask if he's part of Ericsson's problem and not the solution. Ekholm lives in the U.S. and will remain in the U.S., even though Ericsson is headquartered in Sweden. Listen to Ekholm's remarks at the press conference where his appointment was announced.
Google Fiber will "pause our operations" in "potential Fiber cities" to "refine our approaches" — which is being interpreted as switching to millimeter wave wireless fixed access. There will be no change in strategy in the cities where Google Fiber is operating or under construction; the network will remain fiber to the home. This news came in a blog post by Craig Barratt, CEO of Alphabet's Access unit, which is the parent of Google Fiber. Barratt also announced that he is stepping down as CEO, although he will remain an advisor.
Mercury Systems received a $6.3 million follow-on order for RF seekers used in precision guided munitions. Of course, neither program nor customer were announced.
National Instruments reported Q3 revenue of $306 million, which was an increase of 2 percent year-over-year and flat with Q2. NI noted that RF orders set a company record. Q4 revenue is expected to fall between $323 million and $353 million. This earnings call was the 83rd and final one for James Trouchard, co-founder of NI, who will retire at year's end.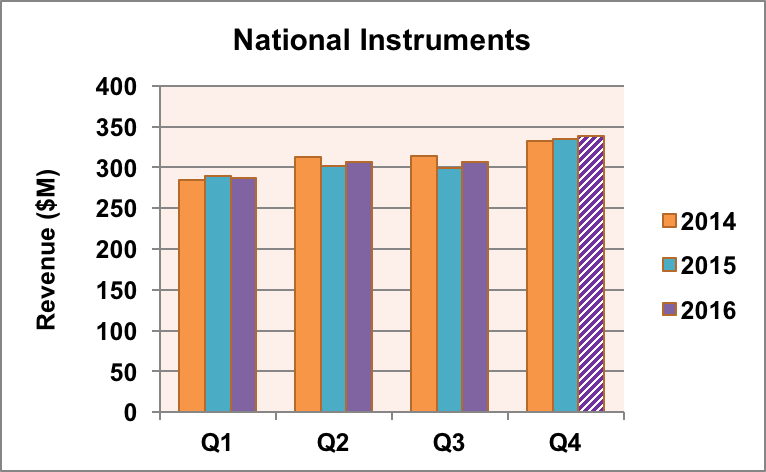 During NI's earnings call, an analyst asked about the company's involvement in the rapidly developing 5G space. Listen to the reply:
After weeks of speculation, Qualcomm and NXP announced that Qualcomm will buy NXP for $47 billion in an all-cash deal. The move enables Qualcomm to move beyond the mobile phone market and expand into automotive and IoT.
The 60 GHz chipset from Peraso Technologies was certified for WiGig® and selected by the Wi-Fi Alliance for their WiGig certification test bed.
Texas Instruments released new SimpleLink™ Bluetooth® low energy modules, which include a microcontroller, 2.4 GHz transceiver and integrated antenna. TI says the modules provide the longest range and have ultra-low power consumption — 9.4 mA current drain when transmitting at +5 dBm.
WIN Semiconductors reported fiscal Q3 revenue and profitability: revenue was NT$3,553 million ($112 million), which was 22 percent above Q3 of 2015. Year-to-date earnings per share (EPS) exceeded full-year 2015 EPS, although margins declined in Q3. The drop reflected the cost of Fab C, which came online in May.
Markets and Technology
Broadband — Google and Facebook joined a project to lay a 120 Tbps capacity fiber optic link from LA to Hong Kong. The cable will be comprised of five parallel pair, each carrying 24 Tbps, which will allow Google's and Facebook's data to run on separate fiber.
Cellular — Zahid Ghadialy, author of the 3G4G Small Cells blog, wrote a summary discussing how 3GPP release 13 evolves carrier aggregation (CA) and dual carrier (DC) modes.
The Wall Street Journal published an interesting article looking behind the curtain of Samsung's Note 7 debacle. Taking quick action proved to be too quick, and the root cause of the fires was still unknown — or at least not publicly disclosed — when the article was published.
Doug Young, who lives in Shanghai and writes Young's China Business blog, contrasts the fate of two mobile phone suppliers: Huawei's ascension, while Apple seeks to stem a decline in share.
IoT — Watch an informative interview on the benefits and challenges of IoT technology applied to healthcare, recorded by @TelecomTV at the recent Internet of Healthcare conference in London.
Autonomous Driving — The Wall Street Journal reported that Alphabet plans their self-driving car unit to be a stand-alone business. The company intends to roll out fully autonomous models incrementally.
Talk about a beer run: a self-driving truck delivered 2,000 cases of Bud from Fort Collins to Colorado Springs. Described as "a train on software rails," the truck operated autonomously along the 120 mile stretch of highway, even navigating Denver traffic. The demonstration was a collaboration between Otto, a subsidiary of Uber, and Anheuser Busch.
Security — The recent DDoS attack that disrupted the internet apparently stemmed from malware on compromised internet-connected devices, prompting one Chinese firm to recall over 4 million internet-connected cameras.
Parting Thoughts — If you're wondering what is motivating AT&T to acquire cable operator Time Warner — for $85 billion — it is to enable "TV everywhere" to become a reality.
Innovation is the lifeblood of technology companies. Here's a philosophy of corporate innovation in under two minutes, elegantly articulated by Astro Teller of Alphabet.
---
Your feedback about content is always welcome. If you have a topic that you'd like to see in the weekly report, please send it to me at glerude@mwjournal.com.
Have a good week.