Here's a summary of industry news from this past week or so.
Companies and Products
It's over. II-VI prevailed in the bidding war to acquire ANADIGICS, matching the competing Chinese company's $0.85 per share offer. II-VI also offered a working capital loan to sustain ANADIGICS' operations until the deal closes.
Advantech Wireless released a 10 kW power amplifier for air traffic control (ATC) radar, covering 2.7 to 2.9 GHz. The GaN-based amplifier is marketed to replace TWTs, offering the advantage of higher reliability.
The wireless segment of Broadcom Ltd. (formerly Avago) reported fiscal Q1 revenue of $578 million, which was down 15 percent from the prior quarter due to soft demand from Apple.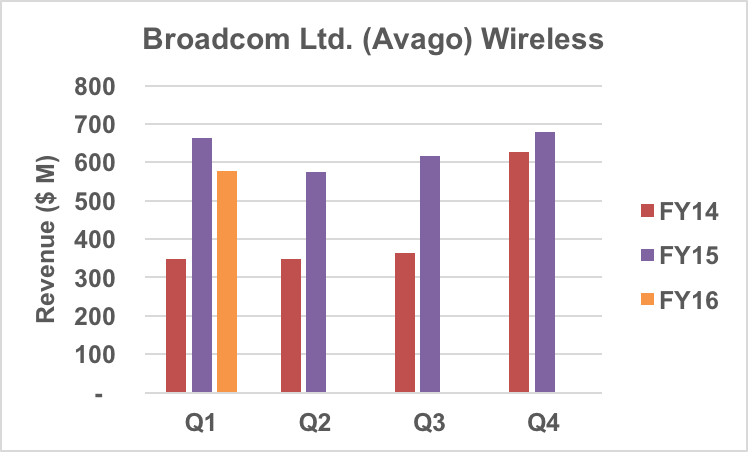 During the earnings call, Broadcom's CEO Hock Tan discussed the wireless segment's performance in fiscal Q1, as well as the Q2 outlook.
Escape Communications and Filtronic are jointly marketing an E-Band radio, offering 1 or 2.5 Gbps data rates using a 500 MHz FDD channel. Filtronic supplies their integrated and fully tested Orpheus RF module with on-board diplexer, and Escape Communications supplies the baseband board with all-digital modem, integrated switch and software stack. The E-Band radio "kit" can be powered with built-in Power over Ethernet (PoE).
Harris received an indefinite delivery, indefinite quantity (IDIQ) order from the U.S. Army for up to 65,000 AN/PRC-158 manpack radios. Deliveries will extend over 10 years, with a potential value of $12.7 billion.
Despite market softness, Keysight Technologies met their financial guidance for fiscal Q1. GAAP revenue was $721 million, 3 percent above the prior year's quarter. The firm grew in each of its target segments: 5G, modular and software.

Keysight demonstrated an internally manufactured InP chipset that will enable oscilloscopes to operate beyond 100 GHz. The InP front-end will be integrated with a new, 10-bit ADC to achieve the bandwidth. The new scope is planned for introduction in 2017.
Peregrine Semiconductor released a high linearity mixer with an integrated LO buffer. The quad MOSFET PE4152 covers 100 to 1000 MHz (RF), 200 to 900 MHz (LO), with 6.6 dB conversion loss. The integrated LO buffer amplifier can be bypassed. Using the LO buffer, input IP3 is 25 dBm, and isolation is 30 dB LO to RF and 30 dB LO to IF. With the LO buffer bypassed, input IP3 is 24 dBm, and isolation is 60 dB LO to RF and 58 dB LO to IF.
In an informative interview with Telecom TV, Eric Creviston, president of Qorvo's mobile segment, and Todd Gillenwater, mobile CTO, discussed the trends in handset architectures, including carrier aggregation (CA) and envelope tracking (ET).
Resonant signed an MOU with an "existing" customer to develop SAW filters for two bands that traditionally use BAW. In its move to commercialize its technology, the company added the role of president and chief commercial officer and recruited 30-year veteran George Holmes to fill it.
Rohde & Schwarz introduced a compact oscilloscope, available with either 600 MHz, 1, 2, 3 or 4 GHz bandwidth. The RTO2000 enables simultaneous viewing of signals in both time and frequency domains as well as the spectrogram.
Wolfspeed announced that adding the power levels of all the GaN on SiC devices the company has shipped equals over 1.3 gigawatts of cumulative output power. Probably of more interest to users, the failure-in-time (FIT) rate of Wolfspeed's technology is 5 per billion device hours. Read their press release.
Markets and Technology
Mobile World Congress — a few more reflections on the themes at MWC:
5G — A working group of the International Telecommunications Union (ITU) met in Beijing to discuss and harmonize global spectrum allocations for 5G.
If you weren't able to see Ericsson's 5G demo at MWC, watch this video demo of their 5G prototype:
Autonomous Vehicles — One of Google's self-driving cars hit a city bus. The minor crash was the first instance of the self-driving car being at fault.
Defense — China says its defense budget will increase 7 to 8 percent this year, which is down from the double-digit levels of prior years. The Associated Press analyzes what that investment is buying.
China's assertive posture in the South China Sea is concerning to U.S. defense officials, as they try to formulate the appropriate response. Washington Post article
---
If you see news that you would like covered in the weekly summary, please email me at glerude@mwjournal.com. Also, if it's more convenient for you to receive these weekly updates via email, just send me your email address.