Here's a summary of industry news that crossed my screen last week:
Companies and Products
ANADIGICS remains in play as the Chinese suitor (party B) increased its bid to $0.76 per share, and ANADIGICS resumed negotiations.
Analog Devices released a PLL with integrated VCO that operates to 6.8 GHz and achieves phase noise of -144 dBc/Hz at 1 MHz offset at 1.7 GHz.
Anritsu introduced a waveguide mixer to extend their spectrum and signal analyzer measurements to V-Band (50 to 75 GHz).
Mobile bellwether Apple reported record December quarter revenue of $75.9 billion, growing approximately 2 percent above the year-ago quarter. They shipped 74.8 million iPhones. However, investors weren't happy to hear that Q2 revenue is expected to drop to between $50 billion and $53 billion.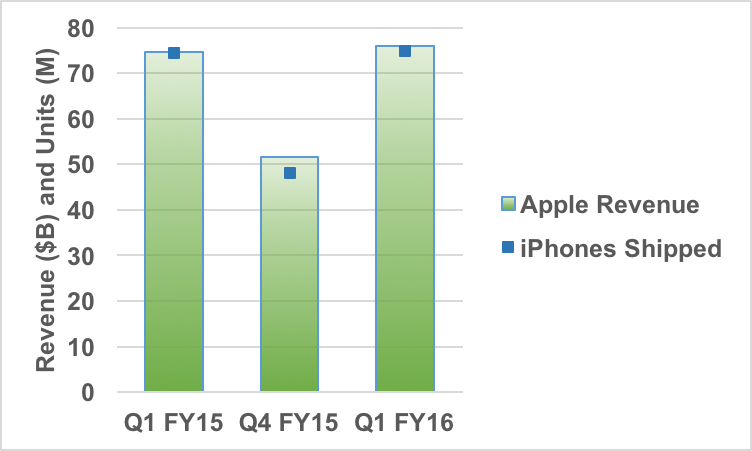 Ericsson's networks segment achieved Q4 revenue of SEK 37.3 billion (approximately $4.4 billion), which was flat year over year when considering foreign exchange rates. It was encouraging to hear that their China 4G business recovered from the slump in Q3.
Ericsson and Swedish/Finnish mobile operator TeliaSonera have teamed to develop and test 5G use cases, including IoT.
Fairview Microwave is offering SPDT electromechanical switches with DC to 8 GHz coverage and lifetimes greater than 2 million switching cycles.
Keysight updated their Genesys RF simulation and synthesis software. Using their Sys-Paramters, off-the-shelf components can be used in circuit simulations.
In releasing fiscal Q2 earnings, Linear Technology reported growth from the optical side of the communications market. Communications generated 18 percent of Linear's Q2 revenue.
MACOM's fiscal Q1 revenue grew 3 percent from the prior quarter, to $115.8 million, thanks to the FiBest and Metelics acquisitions. Their core business revenue declined 1 percent sequentially.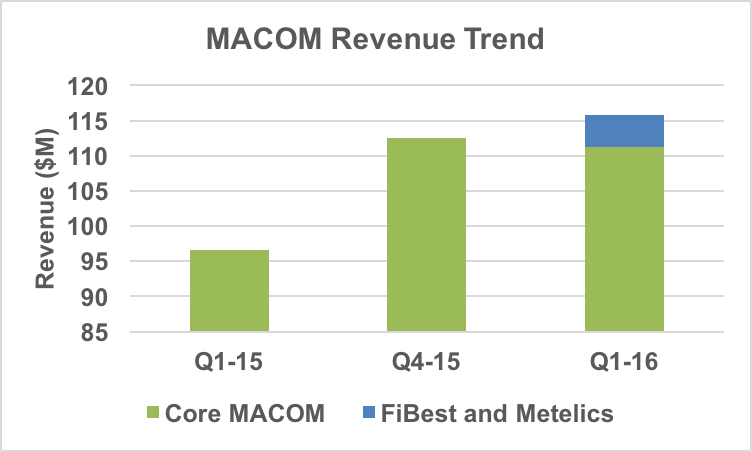 During the earnings call, MACOM CEO John Croteau updated analysts on their recent AESA teaming agreement with Northrop Grumman and the status of the GaN on Si base station strategy.
Norsat announced the MEDIAN series of Ku-Band block up-converters for ground terminals, offering 16 and 25 W output power options.
NSI and MI Technologies are merging to combine their near field, far field and compact range capabilities.
Skyworks reported fiscal Q1 revenue of $927 million, 5 percent above the previous quarter and 15 percent greater than last year's quarter. They expect Q2 revenue to drop 16 percent from seasonal softness (particularly Apple, their largest customer).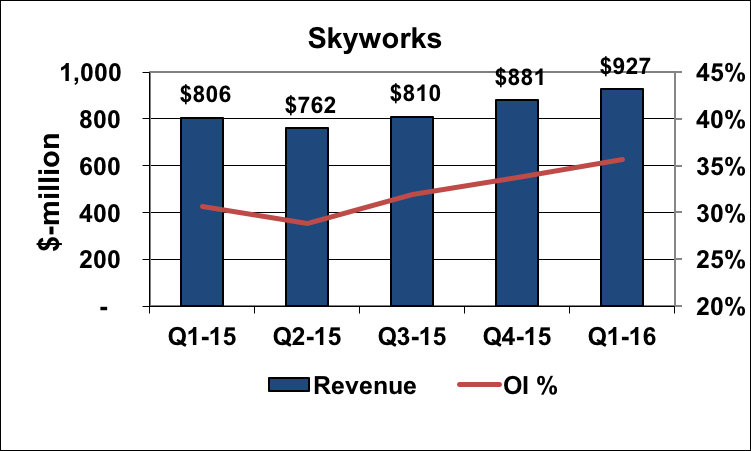 During the earnings call, Skyworks' CEO Dave Aldrich was asked about the threat from the recently announced Qualcomm-TDK JV. From his response, that's not what keeps him awake at night.
Skyworks is selling their Trans-Tech ceramic materials business to Kyocera for some $42 million. The deal is expected to close in April. Generating around $14 million in revenue each quarter, Trans-Tech is too low on the food chain to be part of Skyworks' connectivity strategy.
Sony is acquiring LTE modem supplier Altair for $212 million. The move is motivated to strengthen Sony's cellular-connected sensing strategy.
Markets and Technology
Is cooking the next big market for solid-state power amplifiers? Several companies think so. In this article, Ampleon describes how solid-state PAs, with more degrees of freedom, will improve cooking. "We have cooked a whole egg."
The Committee on Foreign Investment in the U.S. (CFIUS) will likely determine whether a Chinese company can buy ANADIGICS. They even get a vote when neither company nor technology are U.S. based, according to The Wall Street Journal — which we observed when Netherlands-based NXP sold their RF power business to Chinese investment firm JAC Capital.
Microwave "rock star" Ulrich Rohde will receive the MTT-S 2016 Microwave Application Award at the IMS conference in San Francisco, recognizing his contributions to low noise oscillators.
---
If you see news that you would like covered in the weekly summary, please email me at glerude@mwjournal.com. Also, if it's more convenient to receive these weekly updates via email, just send me your email address.
Have a good week.