Here's a recap of last week's industry news:
Companies and Products
In a surprising outcome, II-VI outbid GaAs Labs to win ANADIGICS for $61 million or $0.66 per share. They are also buying EpiWorks for $49 million in a strategic move to expand their technology and production capacity for VCSELs. A third bidder — a Chinese entity — offered $0.75 per share; however, ANADIGICS' board decided that getting approval from the U.S. government was too risky, so II-VI won. The schedule 14D-9 filed with the SEC contains all the details. We contacted both ANADIGICS and II-VI to ask what this means for ANADIGICS' core RF business; neither company returned our calls.
January 25 update: ANADIGICS announced this morning that the Chinese bidder ("Company B") increased their bid to $0.76 per share. Although the new proposal doesn't resolve the board's concerns about the viability of an acquisition by a Chinese entity, the board has instructed ANADIGICS' management to continue negotiating with company B and has advised II-VI that the negotiation "could reasonably be expected to lead to a 'superior offer.'" ANADIGICS remains in play.
Wireless IC supplier Atmel is being acquired by Microchip Technology for $3.6 billion. Microchip outbid Dialog Semiconductors, just as II-VI did to GaAs Labs and Microsemi with Skyworks.
In a vertical technology play, Ciena is acquiring the InP and silicon photonics technologies from TeraXion for $32 million. This is another example of how the optical market is growing, driven by the demand for data.
Ericsson and Huawei extended their wireless patent cross-licensing agreement. The terms weren't disclosed; however Huawei will pay royalties to Ericsson.
MACOM announced a signifiant agreement with Northrop Grumman: the companies will team on defense radar programs that will use MACOM's scalable planar array (SPAR) technology.
The RF and microwave unit of Mercury Systems received a $3 million follow-on order for an EW subsystem.
Microsemi released a SP2T PIN switch that covers 100 MHz to 1 GHz. Mid-band, the switch has 0.2 dB insertion loss, 15 dB return loss and 55 dB isolation.
NYU WIRELESS received an award from the National Science Foundation to develop a millimeter wave testbed. The active array software-defined radio will use a SiBEAM RF front-end and baseband processing from National Instruments.
Qorvo is sampling two 5 GHz front-end modules for Wi-Fi. The FEMs meet the 802.11ac standard for 1024 QAM and 8 x 8 MIMO.
Qualcomm established a JV with China's Guizhou province to develop ICs for servers. They take on Intel, which holds more than 90 percent of the server processor market.
Barry Waxman moved from being a member of Resonant's advisory board to their VP of sales and marketing. Previously, he held a similar role at Newlans.
The latest in the development of reusable rockets: SpaceX successfully landed their Falcon 9 rocket on a ship; however, one leg didn't lock, the rocket tipped and exploded. The SpaceX video is pretty amazing.
Wolfspeed (a Cree company) generated revenue of $27.5 million in fiscal Q2, down 6 percent from the prior quarter and down 12 percent from the year-ago quarter. The decline was attributed to softness in demand for the company's RF GaN products. The company expects Q3 revenue to be "incrementally higher."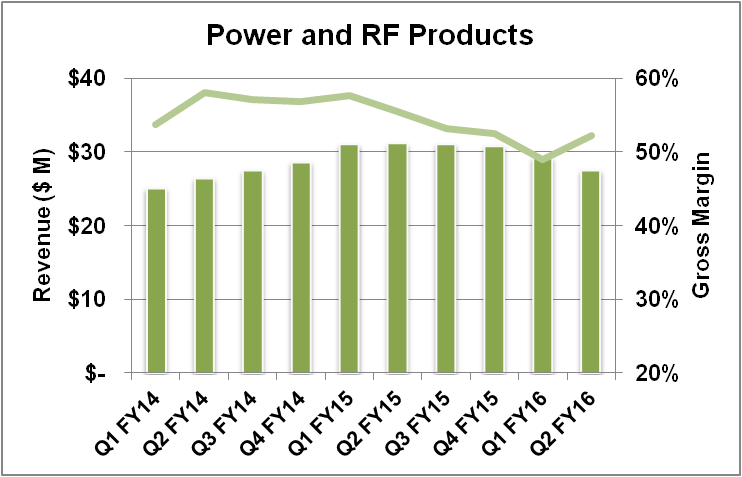 During the Cree earnings call, CEO Chuck Swoboda summarized Wolfspeed's performance and plans for the IPO announced last year.
Zentech added Greg Rodgers to their business development team; he will cover customers in the Delaware Valley.
Markets and Technology
Autonomous Vehicles — The Obama administration is proposing to support the development of self-driving cars with a $4 billion investment over 10 years. The proposal also aims to reduce the regulatory hurdles slowing adoption. New York Times article.
Innovation — The New York Times profiles Google co-founder Larry Page, an intellectual with immense curiosity.
Counting the patents granted by the U.S. in 2015, IBM received the most, 7,355. Samsung came in second, with Qualcomm #4, Google #5 and Intel #9.
STEM — Little girls don't know they are not supposed to like computers. It's the parents who "know," and they shouldn't discourage their daughters argues Linda Liukas, founder of Hello Ruby.
---
If you see news that you would like covered in this weekly summary, please email me at glerude@mwjournal.com. Also, if it's more convenient to receive these weekly updates via email, just send me your email address.