The following news caught my attention last week:
Companies and Products
Ampleon (formerly NXP's high performance RF business) announced a portfolio of 10, 0.5 µm GaN power transistors packaged in ceramic. The devices provide 10 to 200 W output power. Product information.
During the go-shop period, ANADIGICS received an acquisition offer of $0.48 per share or approximately $44 million, which is 37 percent higher than the $0.35 per share ($32 million) deal negotiated with GaAs Labs. GaAs Labs has until December 22 to revise their offer.
Ethertronics released an active antenna for Wi-Fi. The company says steering the beam toward the user achieves up to 3 dB better performance. Their Wi-Fi portfolio includes the antenna, IC and algorithm for 2.4 and 5 GHz Wi-Fi antennas.
Fairchild Semiconductor received and declined an unsolicited bid from a Chinese group including China Resources Holdings Co. and Hua Capital Management Ltd. Fairchild's board is sticking with the deal proposed by ON Semiconductor.
MACOM acquired the Aeroflex Metelics RF/microwave diode business from Cobham for $38 million in cash. The acquisition includes staff and facilities in Sunnyvale, Calif., Lawrence, Mass. and Londonderry, N.H. According to MACOM, the acquisition combines the #1 (MACOM) and #2 (Metelics) RF/microwave diode suppliers. Metelics' portfolio includes JAN-certified diodes and transistors and complements MACOM's. Aeroflex Metelics' revenue was $37 million in the 2014 calendar year.
Mercury Systems acquired privately-held Lewis Innovative Technologies (LIT), based near Huntsville, Ala. LIT's security solutions motivated the acquisition, which is intended to strengthen Mercury's position in secure embedded computing. Terms of the deal were not disclosed, although Mercury stated the acquisition would not materially affect their financial results.
O3b Networks selected Arianespce to launch four additional satellites into medium earth orbit (MEO) in 2018. O3b's initial constellation of 12 satellites in MEO provides low latency, high data rate Internet service to the world's "other 3 billion" people who wouldn't otherwise have Internet access.
Qualcomm's board decided it should remain a single entity. Proposals to split the company into separate IC and IP businesses would lose the synergies between the two — meaning royalties would not be available to invest in IC development.
Tektronix introduced PC-based software that controls multiple arbitrary waveform generators. Tektronix says "SourceXpress" is a convenient and flexible way to control signal sources and generate waveforms.
Teledyne LeCroy introduced vector signal analysis software for modulation visualization and analysis. "VectorLinQ" provides visualization and analysis of standard modulation types such as n-PSK, n-QAM, circular QAM, ASK and FSK as well as custom signal types and symbol positions.
More on TSMC's plans to build a 12-inch, 16 nm wafer fab in Nanjing: Doug Young of the China Business Blog assesses the significance of TSMC venturing out of Taiwan.
Through November, WIN Semiconductors reported year-to-date revenue of $10.9 billion New Taiwan dollars (approximately $330 million U.S. dollars). Year-to-date revenue was 20 percent above the same period in 2014.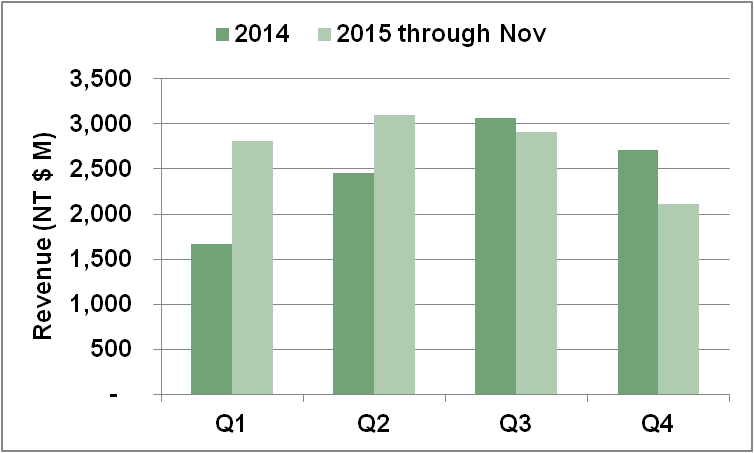 Markets and Technology
5G — Keysight released a white paper on 5G physical layer modeling.
Nokia's Volker Held writes about the recent 5G Connected Industries forum, intended to ensure a happy marriage of 5G technology with the applications that will use it.
Cellular — The 3GPP approved Band 65, which includes the 1980 to 2010 and 2170 to 2200 MHz sub-bands allocated for Echostar's mobile satellite service.
China watcher Doug Young sees another sign that China Telecom and China Unicom will eventually merge.
Broadband — Nokia and Qualcomm formed the MulteFire Alliance. Compared to LTE-LAA and LTE-U, MulteFire also uses LTE on unlicensed bands such as 5 GHz; however the operator doesn't need to hold licensed spectrum.
Last week, I noted The Washington Post article that reported AT&T is "outbuilding Google Fiber." DSL Reports responds with skepticism about AT&T's gigabit launches, saying we should count the number of connections, not cities.
Automotive — Ford received a driving permit to test drive autonomous Ford Fusion hybrids on California's streets next year.
Lastly, this may be of interest to anyone traveling to China: the public toilets are getting an upgrade with Wi-Fi, TV and ATMs.
---
If you come across news that you think I should include in this weekly summary, do send it along to glerude@mwjournal.com.
Have a good week. Tuesday marks the winter solstice, which means the days will get longer for those of us in the Northern Hemisphere.