Here's a recap of news from the past week that is worth noting:
Companies and Products
Analog Devices (ADI) reported fiscal Q4 revenue of $1.0 billion, which was an increase of 15 percent from the prior quarter and 2.5 percent above the year-ago quarter. The aerospace and defense segment rebounded during the quarter, while the communications infrastructure market declined 2 percent sequentially, yet was up 6 percent compared to the same quarter one year ago.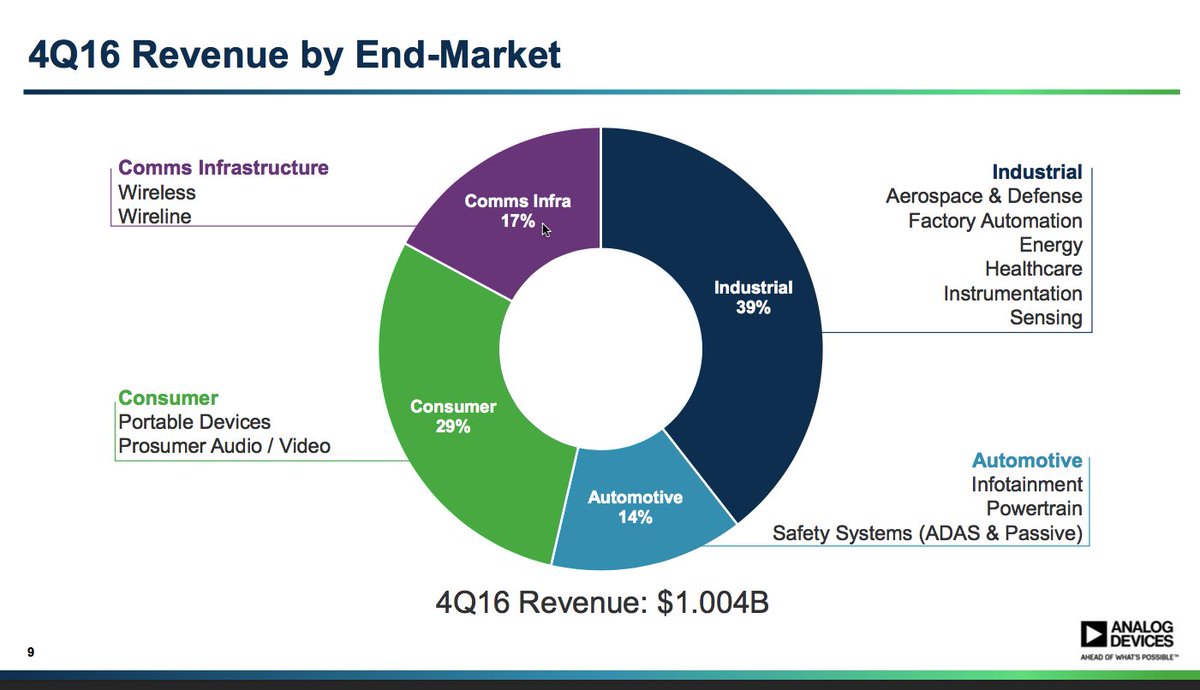 During the earnings call, ADI's CEO Vincent Roche was asked about the outlook for the wireless infrastructure market; listen to his comments:
Roche also commented on ADI's recent acquisition of LIDAR technology, intended to beef up their ADAS (advanced driver assistance systems) capabilities:
China Mobile deployed a 2.6 GHz massive MIMO site in Shanghai and achieved 72 Mbps data rates on the uplink and 630 Mbps on the downlink.
Cree and Infineon expect Infineon's acquisition of Wolfspeed to close in February. In a release filed with the SEC, Cree stated the required 30-day CFIUS (Committee on Foreign Investment in the United States) review will begin soon.
e2v is registering customers to receive first samples of its C-Band analog-to-digital converter, scheduled for January. With a 3 dB bandwidth of 5 GHz, the EV12AD500 eliminates the need for down-conversion in the operating bandwidth, which simplifies the receiver block diagram.
Huawei and China Mobile have developed a single antenna that covers all of China Mobile's FDD/TDD bands (3, 8 and eight channels of 34, 39 and 41). Electrical downtilts can be adjusted remotely for each frequency band, and the horizontal azimuth and beamwidth can be remotely switched for the TDD antennas.
During Infineon's fiscal Q4 earnings call, CEO Reinhard Ploss was asked about MACOM's lawsuit over GaN on Si technology. Listen to his comments:
Strengthening their position in the data center market, MACOM announced it will acquire AppliedMicro Circuits Corp. for $770 million. AppliedMicro brings OTN framers, MACsec Ethernet networking components and a single wavelength PAM4 platform.
Microsemi released four families of plastic-packaged PIN diode products for aerospace, defense, test and measurement and medical applications.
Markets and Technology
Cellular — Strategy Analytics reports that Apple captured 91 percent of the $9 billion smartphone profit pool during Q3. That's impressive, considering Apple doesn't have a commanding market share.
5G — If you weren't able to be in Dallas for last month's 5G workshop, you can access and review all the presentations on the Small Cell Forum's website. Quite a lineup, including AT&T, Cisco, CommScope, Ericsson, Huawei and Samsung.
Both AT&T and Verizon see fixed wireless as the initial 5G use case. AT&T is advocating setting the initial 5G standards by early 2018, earlier than the 3GPP timeline of mid-2018.
Broadband — A European Horizon 2020 project aims to commercialize Si photonics transceivers for data centers. The Leti-coordinated COSMICC project plans to combine CMOS electronics and Si photonics with high throughput, fiber attachment techniques, compatible with mass production.
Autonomous Driving — Do you think a self-driving car can take on the legendary Boston drivers? We'll soon find out who wins playing chicken as nuTonomy deploys a fleet of electric Renaults.
Food for Thought — An interesting discussion by two tech reporters at The New York Times: many mobile tech products are designed by a small group of young, white, male engineers. Does that adequately reflect and represent the global market?
---
Your feedback about coverage is always welcome. If you have a topic that you'd like to see in the weekly report, please send it to me at glerude@mwjournal.com.
Have a good week and make some news.