Here's a recap of recent industry news that caught my attention during the past week:
Companies and Products
Ampleon announced their second generation of GaN power transistors. The 0.5 µm, 50 V GaN on SiC devices target base station infrastructure, so cover 1.8 to 3.8 GHz with output power from 15 to 600 W. Also, the company introduced new Cu flange, air cavity packages for their LDMOS and GaN power transistors. The ACP3 platform is lower cost and has 25 percent lower thermal resistance than previous packages. Ampleon is developing more than a dozen variants of the SOT502 and SOT539 standards.
Analog Devices released a high power SPDT switch covering 700 MHz to 3.5 GHz. Targeting TDD base stations, the silicon switch handles 46 W peak and 20 W CW and has 0.6 dB insertion loss and 50 dB isolation at 2 GHz. The switch requires a single, 5 V supply and typically draws 1 mA, which makes it a competitive alternative to PIN diode switches.
Targeting 5G links at 28 GHz, Anokiwave announced a 4-element T/R MMIC covering 27.5 to 30 GHz with 5-bit amplitude and phase control. The AWMF-0108 provides gain compensation over temperature, temperature reporting, Tx power telemetry and fast beam switching enabled by eight on-chip beam weight storage registers.
Custom MMIC previewed five new variants of the distributed amplifier, adding to their stable of more than 10 distributed amplifier products. The distributed amplifier seems eternal: the first GaAs MMIC versions were published in 1982, and they remain a favorite gain block in microwave systems.
Echodyne is developing a detect and avoid (DAA) radar for UAVs, which is scheduled to be released by the end of the year. The K-Band radar, based on Echodyne's patented Metamaterials Electronically Scanning Array (MESA™), has a range of 3 km.
Keysight reported fiscal Q2 GAAP revenue of $731 million, which was 1 percent below last year's quarter and up 1 percent sequentially. Softness in mobile wireless was partially offset by Anite revenue and growth in 5G. Aerospace and defense revenue was up 3 percent.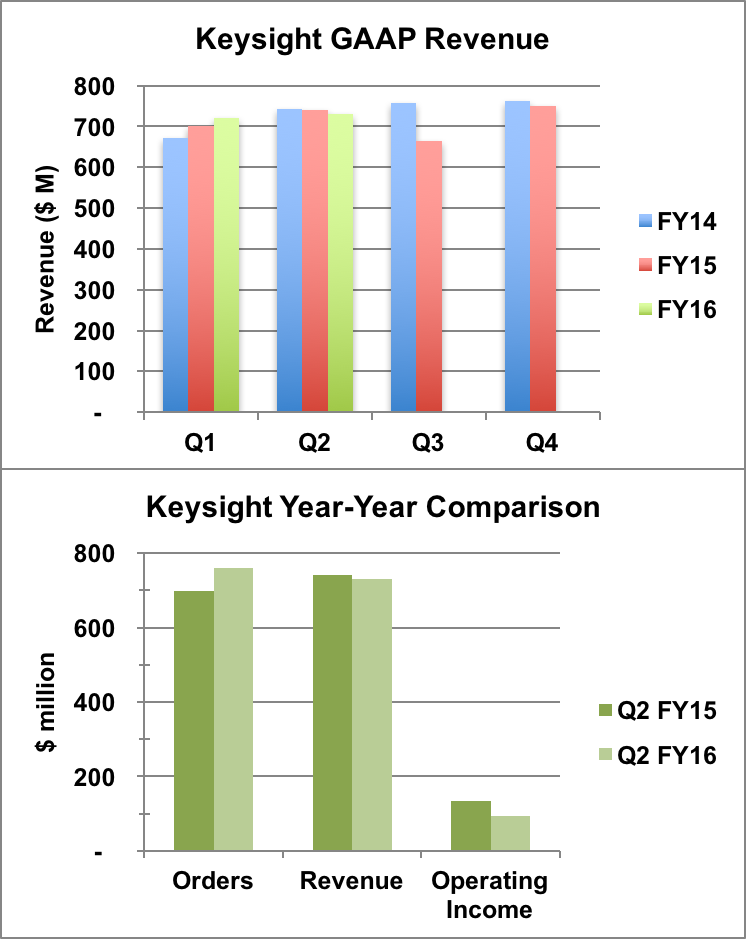 Also, Keysight is expanding collaboration with China Mobile. Keysight will have a dedicated R&D team in Beijing working with China Mobile's Research Institute on channel modeling and massive MIMO over-the-air (OTA) testing.
Italian defense company Leonardo-Finmeccanica has developed an electronically scanned (E-scan) airborne surveillance radar. Named Osprey, the compact, flat panel design is small enough to fly on UAVs. Norway is the lead customer for the system, which will be integrated on 16 Leonardo-Finmeccanica helicopters that Norway is procuring.
MACOM released a 300 W, 70 percent efficient, plastic packaged GaN on Si transistor for RF energy applications at 2.46 GHz. The MAGe-102425-300 meets the core technical requirements proposed by the RF Energy Alliance. MACOM also released a 100 MHz to 3 GHz power amplifier MMIC that provides 30 dBm saturated output power, 40 percent power-added efficiency, 40 dBm output IP3 and 23 dB small-signal gain (with 9 V bias).
Pasternack announced a new 60 GHz development system containing SiGe BiCMOS transmit and receive modules and low noise reference oscillators. Covering the 57 to 64 GHz global ISM band, the PEM009-KIT enables quick and easy prototyping of links.
SAW filter entrant Resonant secured a second licensing agreement, with a second customer, for three cellular duplexers. The agreement provides a path to production revenue if the company's duplexer designs are successful.
Texas Instruments (TI) introduced a 14-bit analog-to-digital converter (ADC) that performs direct conversion to 4 GHz. The ADC32RF45 extends the upper frequency limit of direct conversion receivers and can eliminate up to four IF down-conversion stages in multi-band receivers.
Foundry TowerJazz ramped a new 0.18 µm SiGe BiCMOS process to volume production. In addition to the 0.18 µm SiGe PA device, the process has a low Ron-Coff switch device, a SiGe low noise amplifier device, 5 V CMOS for power control, 0.18 µm CMOS for digital and thick Cu metal for low loss inductors and matching components. The company announced Skyworks as a lead customer, for an integrated front-end module.
Markets and Technology
Broadband — Five years in, Google Fiber is deploying in five cities, with 17 more planned. Word is, Google Fiber is meeting internal targets.
Meanwhile, AT&T is expanding its competing "U-verse Gigapower" fiber service in Atlanta, Kansas City, LA and Oklahoma City.
Cellular — Sprint is postponing small cell deployment until next year. The move saves CapEx — a 36 percent reduction from last year — and reflects a more serious challenge: the cumbersome and bureaucratic siting process for small cells.
Interesting Stories — What was more impactful to society: indoor plumbing, air travel or mobile phones? The New York Times compares daily life in the 1870s, 1920s, 1970s and today.
The StartUp podcast tells the fascinating story of the company that might have become Spotify. Have you ever invested your heart and soul in a company or project that blew up?
As the MTT-S International Microwave Symposium launches in San Francisco this week, Qorvo's Brent Dietz reflects on the fun and frustration of trade shows.
---
Have a good week. I hope to see many of you at IMS.
If you come across news that you think your colleagues would like covered in this weekly summary, email me at glerude@mwjournal.com.