Here's a recap of industry news from the past week that caught my attention:
Companies and Products
Ampleon announced a very high power LDMOS transistor with 1.4 kW CW output power for applications from 10 to 600 MHz. Samples are available now, with production quantities planned for Q3 of this year.
Cobham Wireless is marketing a distributed antenna system (DAS) that provides cellular service on ships. It's usable when the vessels are within 50 km of land. Beyond 50 km, vessels have to rely on satellite links.
During Infineon's fiscal second quarter earnings call, CEO Reinhard Ploss told analysts, "The mobile base station business continued to show a very nice recovery with a strong demand for our RF power components." This has been a consistent theme among infrastructure suppliers.
Mercury Systems completed their $300 million acquisition of Microsemi's RF, custom microelectronics and embedded security businesses. The three businesses complement and extend Mercury's capabilities, markets and customers.
Reflecting an industrial market slowdown in the first quarter of 2016,National Instruments reported revenue of $287 million, down 1 percent year-over-year and 14 percent below the prior quarter's revenue. Gross margin was 73.5 percent, essentially flat with the year-ago quarter, while operating income dipped 2.2 points to 4.8 percent.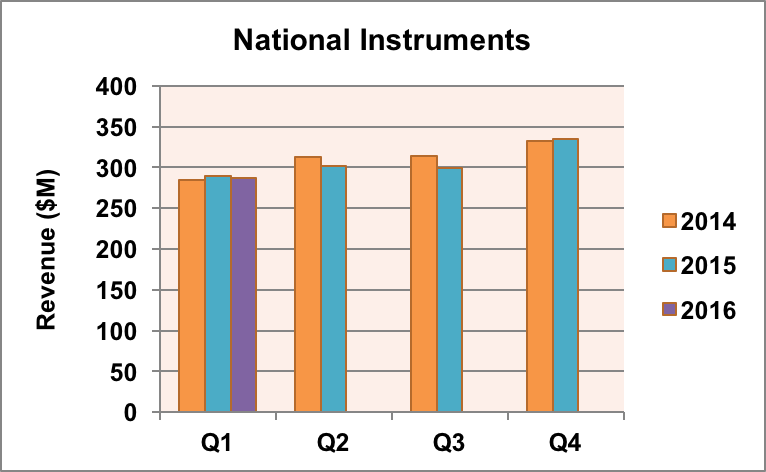 Pasternack continues to expand their portfolio, adding 69 PIN diode switches. Flavors range from SPST to SP12T and cover bands to 67 GHz. All are in packages with connectors.
Qorvo reported Q4 revenue of $608 million, which was above their guidance and better than the normal after-Christmas seasonality. Mobile segment revenue declined 5 percent from the prior quarter, while the infrastructure and defense segment (IDP) grew 9 percent. Within IDP, wireless infrastructure revenue grew over 25 percent sequentially.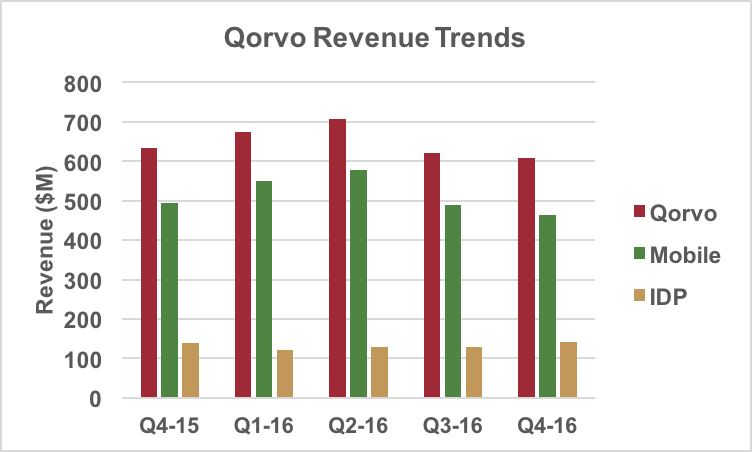 Rogers introduced laminates and prepregs for high power applications. The 92ML™ materials achieve 3.5 W/mK in-plane thermal conductivity.
It was a busy week for Skyworks, as they rolled out four new products for Wi-Fi and CATV:
The U.S. Air Force awarded an $83 million GPS satellite launch contract to SpaceX, estimating the contract will save the government 40 percent compared to prior launches by United Launch Alliance, a Boeing and Lockheed Martin venture.
ViaSat introduced a handheld Link 16 radio that enables soldiers to directly communicate with close air support (CAS) aircraft. Production of the Battlefield Awareness and Targeting System – Dismounted (BATS-D) is scheduled to begin before the end of the year.
WIN Semiconductors reported April revenue of NTD 1,136 million ($35 million). Revenue increased 9 percent compared to last year (April 2015) and 1.9 percent compared to the prior month (March 2016). Year-to-date revenue was 15 percent above the same period in 2015.
Markets and Technology
Broadband — ABI Research estimates 20 billion Wi-Fi chipsets will ship from 2016 to 2021. The higher bandwidth 802.11ax standard will come online in 2019, and more than 95 percent of shipments in 2021 will be able to access the 5 GHz spectrum.
IoT — Another ABI Research report outlines their view of IoT adoption, which will be led by smart home, smart city, energy, beacon and wearable applications.
SIGFOX is expanding their dedicated IoT network to 100 U.S. cities this year. SIGFOX has more than 7 million registered devices in 18 countries on their subscription, low power, wide area (LPWA) network.
At the recent Smart IoT London conference, professor Mischa Dohler of Kings College told Telecom TV why he thinks cellular is the right transport vehicle for IoT data.
China — The Wall Street Journal reported that China's manufacturing sector expanded for the second consecutive month in April, with the purchasing managers index (PMI) reported as 50.1, compared to 50.2 in March. A PMI above 50 reflects growth.
Faith or Science? — Moore's Law built an industry and the technology society. What happens when it no longer applies? Read this New York Times article. Au contraire. Intel's CEO, Brian Krzanich, isn't worried about the demise of Moore's Law. He's planning on 5 nm and beyond.
Technology and Society — With phone and tablet location apps, such as Find My iPhone, the maxim "finders keepers, losers weepers" no longer holds. The New York Times follows the interesting journey of a lost iPad.
---
Have a good week. If you come across news that you think your colleagues would like covered in this weekly summary, email me at glerude@mwjournal.com.