Here's a recap of interesting industry news from the past week, much of it related to earnings releases:
Companies and Products
II-VI is evaluating four options for the RF segment of ANADIGICS. Francis Kramer, II-VI CEO, outlined the possibilities during the company's earnings call, which include divesting, shutting it down, or continuing to operate:
Start-up ACCO Semiconductor raised $35 million to fund R&D and product launch. ACCO is developing CMOS PAs for LTE and IoT.
Apple's quarterly revenue declined 13 percent year-over-year to $50.6 billion — the first revenue decline since 2003. iPhone shipments dropped 16 percent year-over-year.
Cobham announced a spiral antenna covering 700 MHz to 2.7 GHz, with 150 W power handling and 60° x 60° beamwidth. You can jam all the mobile bands with a single antenna.
Cypress Semiconductor is buying Broadcom's Wi-Fi, Bluetooth and Zigbee IoT product lines and IP for $550 million (2.9x sales).
What's the strategy behind Facebook developing 60 GHz links and massive MIMO base stations? They want to lower the cost to access the Internet and Facebook. New York Times article.
Mercury Systems' purchase of three businesses from Microsemi cleared the HSR (Hart-Scott-Rodino) antitrust review. The deal should close today (May 2).
MACOM reported fiscal Q2 revenue of $134 million, an increase of 15 percent sequentially and 30 percent above the year-ago quarter. 72 percent of the quarter's revenue was generated by the networks segment, largely optical products.

During MACOM's earnings call, CEO John Croteau updated the status of their GaN on Si qualification and the steps to BTS design wins and revenue.
MACOM is suing Infineon, claiming Infineon is violating the terms of a GaN on Si IP agreement that divides market rights between the two companies. MACOM inherited the agreement with thier acquisition of Nitronex, Infineon from the acquisition of International Rectifier (IR).
National Instruments released a digital multimeter with 7½-digit precision and 15 ppm accuracy when measuring voltage.
During their earnings call, NXP CEO Rick Clemmer said they saw a "rebound" in the base station market in Q1, as China Mobile began phase 4 deployments.
Todd DeBonis was named president and CEO of Pixelworks, a company that develops IP for optimizing video displays on various platforms. DeBonis was previously VP of sales and strategy at TriQuint.
Resonant secured their first license with a tier one customer for two SAW duplexer designs, targeting high volume handsets. This deal appears to validate their SAW technology and, if successful, will provide their first production revenue.
Silicon Labs released two, low jitter clocks for 100G and 400G coherent optical systems. The 50 fs RMS devices will generate frequencies up to 2.7 GHz.
Despite the softness in iPhone sales, Skyworks' fiscal Q2 revenue grew 2 percent year-over-year to $775 million. The company posted 50 percent gross margin and 33 percent operating margin.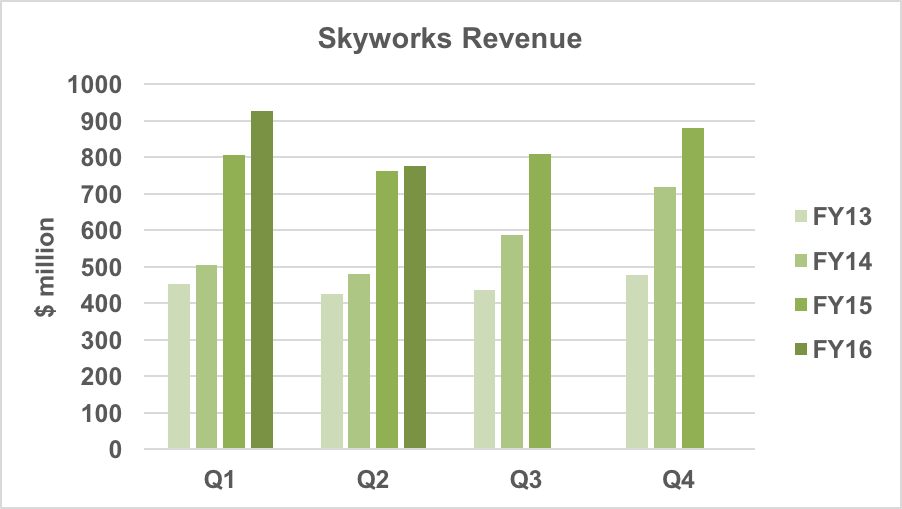 Wolfspeed reported fiscal Q3 revenue of $29 million, a 5.6 percent sequential increase and 6.5 percent decline year-over-year. Gross margin dropped to 46 percent, due to the introduction of new products.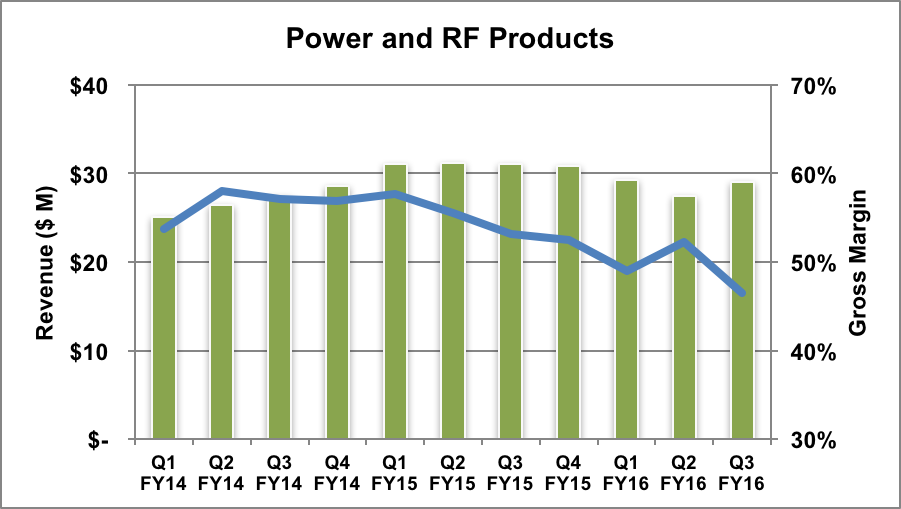 Among those new products, Wolfspeed released a 30 W, 8 GHz, 28 V GaN transistor die. At 4 GHz, the device achieves 30 W Psat with 65 percent drain efficiency; small-signal gain is 17 dB.
Markets and Technology
Defense — The House Armed Services Committee (HASC) is concerned about the Army's timing to field a new Patriot radar, arguing 2028 is too long to wait.
The Wall Street Journal published an interesting tutorial on how U.S. firms shelter foreign profits from U.S. taxes.
---
If you see news that you would like covered in this weekly summary, please email me at glerude@mwjournal.com.
Have a good week.