Here's a summary of recent industry news that caught my eye this past week:
Companies and Products
The Chinese company (party B) that is pursuing ANADIGICS added a loan and reverse termination fee to their $0.78 per share bid. This sufficiently addressed company concerns that approval of the proposed acquisition could be prolonged or denied, and the ANADIGICS board declared the offer "superior" to the signed deal with II-VI (at $0.66 per share). II-VI was given three business days to counter.
Analog Devices (ADI) reported first quarter fiscal 2016 results, stating that the communications segment generated $168 million in revenue, up 5 percent sequentially and down 16 percent from last year's quarter.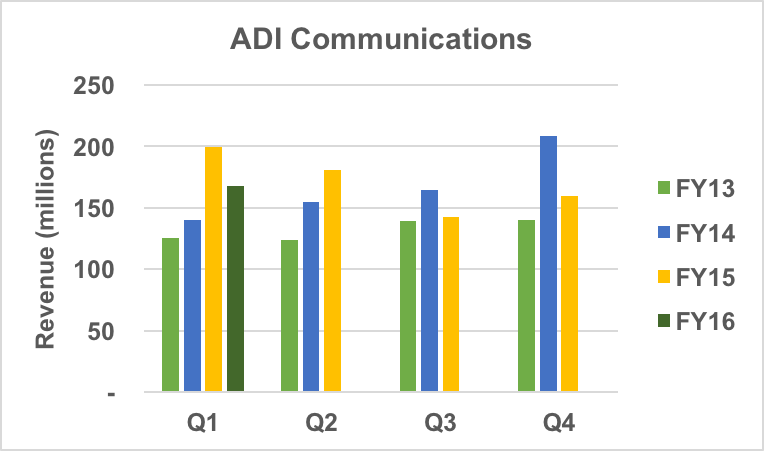 Responding to an analyst's question during the earnings call, ADI CEO Vincent Roche shared his outlook for the communications market and noted the positive impact of the Hittite acquisition.
Another analyst asked about ADI's defense business and how it is tracking the DoD budget. ADI's CFO, Dave Zinsner, and CEO Vincent Roche responded.
AT&T's CEO aims to transform "Ma Bell" into a cloud-based information company. It's something of a tale of two brothers says The New York Times. Related, AT&T disclosed their 5G roadmap, noting plans for lab and field trials this year, which will support their recommendations to the 5G standards bodies.
Custom MMIC added a 2 to 20 GHz distributed amplifier MMIC to their catalog. At 10 GHz, the LNA provides 9 dB gain, 4.5 dB noise figure and 20.5 dBm output at 1 dB compression.
Intel and Qualcomm announced they have demonstrated 802.11ad WiGig interoperability, following extensive collaboration and laboratory testing.
Keysight released new options for the M9485A PXIe VNA that enhance BTS component and active multiport module testing.
LPKF launched a high speed laser drilling and contour cutting system for flexible circuits. The MicroLine 5000 uses a UV laser, available in two power classes, and has a working area of 21" x 24".
Mitsubishi is developing a multi-subcarrier optical transceiver that achieves 1 Tbps, 10x above the current 100G industry standard.
At Mobile World Congress, Nokia will be demonstrating MulteFire, another approach to increasing data capacity — this one by using LTE in unlicensed spectrum.
NXP introduced two SiGe LNAs with bypass switches for cellular handsets. The BGS8L4UK covers 720 to 960 MHz, with 0.8 dB noise figure, and the BGS8M4UK covers 1805 to 2200 MHz, also with 0.8 dB noise figure.
Pasternack updated their online Cable Creator, which enables users to design and order customized cable assemblies.
Peregrine Semiconductor added a 75 Ω digital step attenuator to its portfolio. The PE4314 is a 6-bit DSA that covers 1 MHz to 2.5 GHz. The design is "glitch-less," meaning transients are less than 0.5 dB when switching states.
ViaSat is planning to provide global Internet coverage with a three satellite constellation. Each satellite will have over 1 Tbps capacity. ViaSate seems to be making inroads into the aircraft market, as American Airlines is exploring their legal right to switch from Gogo to ViaSat as in-flight Internet service provider.
Markets and Technology
Broadband — Market analyst Joe Madden forecasts another doubling of the Wi-Fi semiconductor market, reaching $12 billion by 2020. Of course, mobile data demand is driving the growth.
China — The Wall Street Journal published a good analysis of the current pall hanging over the paradoxical Chinese economy.
Fashion — Smartwatches passed Swiss watch shipments during the last quarter of 2015. Is this a true technology shift or a fad like the boom in LED and LCD watches in the 80s?
Privacy vs. National Security — Apple is resisting the U.S. government and a court order to help the FBI "hack" an iPhone used by one of the San Bernadino terrorists. The government claims this is a one-off case. Apple says it's Pandora's box, and CEO Tim Cook has thrust the company into the political spotlight.
---
If you see news that you would like covered in the weekly summary, please email me at glerude@mwjournal.com. Also, if it's more convenient for you to receive these weekly updates via email, just send me your email address.