www.microwavejournal.com/blogs/17-gary-lerude-mwj-technical-editor/post/27788-weekly-report
Weekly Report
For the week ending January 27, 2017
January 30, 2017
Here's a recap of interesting industry news from this past week:
Companies and Products
Apple is suing Qualcomm in both the U.S. and China, claiming Qualcomm is abusing its market position by overcharging for ICs. Qualcomm calls Apple's claims "baseless."
Ericsson reported a $181 million loss in Q4 2016. Revenue in the networks segment declined 13 percent from the prior year's quarter, to some $3.7 billion. Borje Ekholm, the new CEO, said Ericsson is "reviewing its priorities in order to set the future direction of the company" and will prioritize profits over growth.
Reuters reported that Keysight will likely acquire Ixia, a supplier of equipment for testing and securing networks. Keysight apparently won the auction, for approximately $1.6 billion, and is finalizing terms for the purchase. Update: Keysight announced the acquisition of Ixia on January 30.
MACOM completed the acquisition of AppliedMicro, paying some $770 million to strengthen its position in the data center market.
National Instruments reported 2016 revenue of $1.2 billion, essentially flat with 2015. During the earnings call, new CEO Alex Davern said, "Growing our top-line revenue and achieving our operating model is my top priority."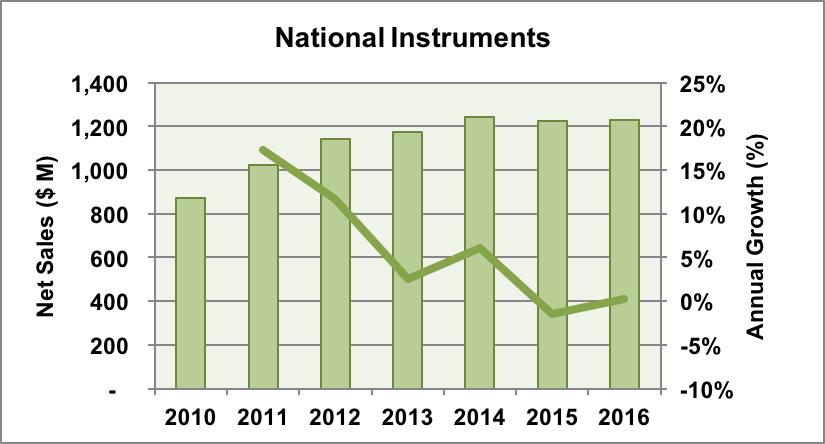 OML introduced three harmonic mixers for handheld spectrum analyzers, covering the WR-12 (60 to 90 GHz), WR-15 (50 to 75 GHz) and WR-10 (75 to 110 GHz) bands.
Peregrine's 60 GHz SOI switches, announced at last fall's EuMW conference in London, are now available in volume production. The PE42525 and PE426525 cover 9 kHz to 60 GHz, with 1.9 dB loss and 37 dB port-to-port isolation at 50 GHz (typical performance).
Phasor and Thales Alenia Space signed a memorandum of understanding to develop a software-defined terminal for commercial Ka-Band satcom applications. Phasor brings expertise in electronically steerable antennas to the development.
Qorvo joined China Mobile's 5G innovation center, which will allow the company to collaborate with China Mobile and other industry players doing 5G development for China.
Raytheon received a $235 million award for the fourth year of full-rate production of the Standard Missile-6 (SM-6). Deliveries will begin in 2018. SM-6 provides the U.S. Navy with an over-the-horizon defensive and offensive capability, incorporating both active and semi-active radar modes and advanced fuzing. More info on SM-6 here.
After an extensive investigation, Samsung said bad batteries — different issues with their two suppliers — caused the Note 7 to ignite. The Wall Street Journal wrote a thorough report.
Wolfspeed's Q2 fiscal 2017 revenue was $54.4 million, 9 percent above the prior quarter and 29 percent above the year-ago period. Gross margin was 55 percent.

Wolfspeed, a subsidiary of Cree, is being acquired by Infineon. During Cree's earnings call, CEO Chuck Swaboda said the deal is expected to close this quarter.
Markets and Technology
Cellular — Global 4G subscribers grew to 1.77 billion during 2016, with 43 percent located in China. 4G penetration in China reached 57 percent — 762 million subscribers — growing 84 percent above year-end 2015.
China Tower, the joint venture (JV) of China's three mobile operators, reported installing more than 1.1 million base stations since the JV was formed two years ago. In 2016, China Tower spent $8.9 billion to deploy infrastructure.
Huawei and China Unicom demonstrated the first FDD massive MIMO transmission, using 20 MHz of spectrum and a two-antenna mobile receiver.
Zahid Ghadialy wrote an interesting update on LTE's evolution to 1 Gbps data rates. For purists, Zahid reminds us that we won't truly be at 4G until the network can deliver 1 Gbps both up and down (see the IMT-A spec).
Broadband — FCC commissioner Ajit Pai, a critic of net neutrality, is the new chairman, selected by President Donald Trump to replace Tom Wheeler. In his initial speech to the staff, Pai said a priority will be to close the digital divide.
ABI Research forecasts a 54 percent growth in wireless chipset shipments by 2020, with most able to support multiple protocols (ZigBee, Thread, Bluetooth Low Energy, Z-Wave, Wi-Fi and NFC), which will simplify equipment designs.
Defense — The defense industry is hopeful that the Trump administration will continue the export control reforms started under the Obama administration.
Last Word — A smile to start the week. Hat tip to Mimosa Networks for posting this.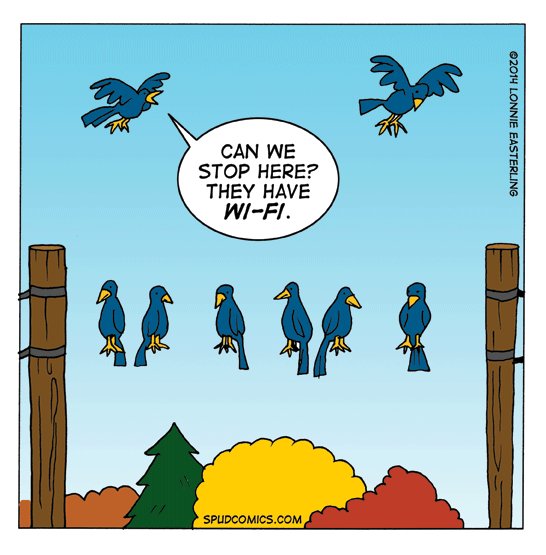 ---
Thoughts? Leave a comment.