www.microwavejournal.com/blogs/17-gary-lerude-mwj-technical-editor/post/27751-weekly-report
Weekly Report
For the week ending January 20, 2017
January 23, 2017
The weekly report, a recap of industry news:
Companies and Products
Cisco and Ericsson won a five-year deal to virtualize Vodafone Australia's network. Ericsson will be the prime contractor.
Custom MMIC launched five low phase-noise amplifiers for sensitive oscillator and receiver applications. The five GaAs MMICs cover 6–18, 8–22 and 30–40 GHz. At 10 kHz offset, the phase noise is −165 dBc/Hz for the 6–18 and 8–22 GHz amplifiers and less then −160 dBc/Hz for the 30–40 GHz amplifier.
Börje Ekholm took the tiller at Ericsson, becoming CEO after serving on the board for 10 years. He faces the challenge of turning the company around in a soft market, in the gap between 4G and 5G.
Linear Technology reported quarterly financial results, likely their last release before being acquired by Analog Devices. Revenue grew year-over-year, and gross margin was stable.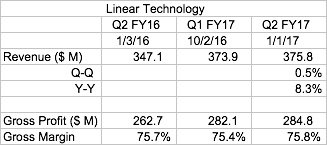 MACOM is expanding its presence in Lowell, Massachusetts, making a $15 million investment to build a new 50,000 sqare foot building and add at least 47 to the team.
The U.S. government renewed Qorvo's "Trusted Source Category 1A" accreditation through 2018. Design services were added to the list of trusted services, which comprise wafer fab, post-processing, packaging/assembly and RF test. Qorvo is one of five accredited suppliers for both GaAs and GaN.
The Federal Trade Commission (FTC) charged Qualcomm with anticompetitive tactics intended to maintain a monopoly in mobile baseband processors. Qualcomm responded, saying the FTC's antitrust suit is flawed. "Qualcomm has never withheld or threatened to withhold chip supply."
Skyworks reported financial results for the first fiscal quarter of 2017. Revenue was $914 million, 9.4 percent above the prior quarter and 1.3 percent below the same quarter of 2016. Skyworks generated $496 million in cash from operations. The company estimated Q2 revenue will be approximately $840 million.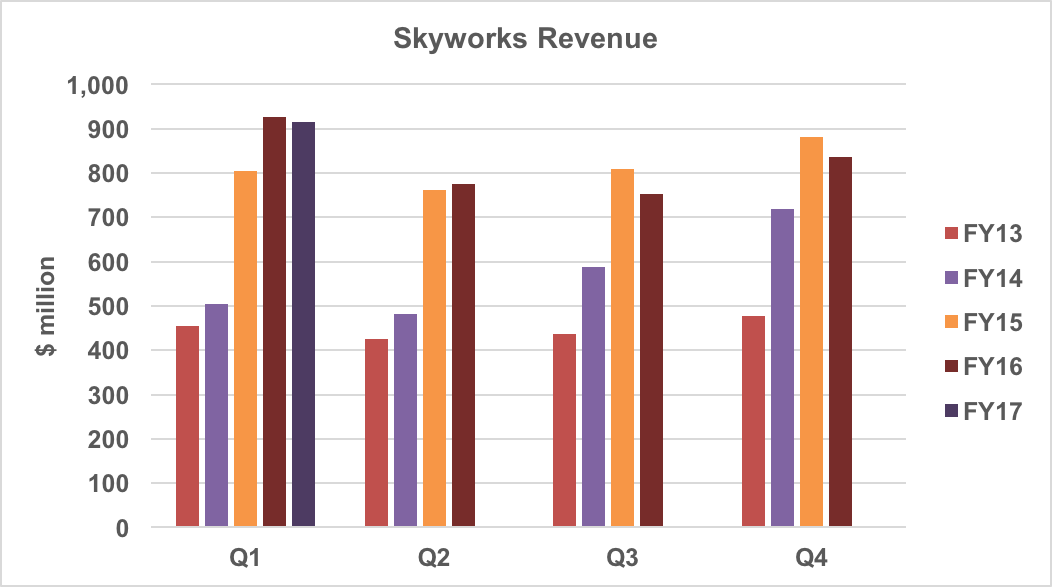 After a gap in several months following a launchpad "anomaly" (aka explosion), SpaceX successfully launched 10 Iridium NEXT satellites into orbit, and the Falcon 9 first stage landed on the droneship.
Trak Microwave announced a Ku-Band satcom transceiver that integrates a 25 W GaN power amplifier with up/down-converters and digital control.
Markets and Technology
5G — A Qualcomm-commissioned study estimates that the 5G value chain will generate $3.5 trillion in revenue and support 22 million jobs in 2035.
At the Davos World Economic Forum, Kaan Terzioğlu, who is Turkcell's CEO, said that 5G will introduce the fourth industrial revolution.  
IoT — We read the back-and-forth about which connectivity standard will "win" the IoT race. Will it be licensed, like NB-IoT, or unlicensed, like LoRa? Nokia says both have a role in the IoT, with the application deciding.
China Mobile chose Ericsson's device connectivity IoT platform. China Mobile aims to serve 200 million connected devices by the end of this year.  
Broadband — JetBlue completed installing ViaSat Wi-Fi on all their aircraft and announced the 12–15 Mbps internet connection will remains free to passengers.
Personal computer shipments in 2016 declined 6 percent from 2015 to 270 million units, the lowest level since 2006.
Autonomous Vehicles — The National Highway Transportation Safety Aagency (NHTSA) cleared Tesla's Autopilot in last May's fatal crash in Florida. Their investigation found no defects in the system. However, the NHTSA cautioned automakers not to over-market these systems, which are good but cannot fully drive the car. The New York Times quoted Bryan Thomas, a spokesman for NHTSA as saying "Not all systems can do all things."
Amazon received a patent for coordinating autonomous vehicles in a roadway. Read the patent.
Defense — As Donald Trump was sworn into office, the Pentagon and Lockheed Martin were nearing a deal for the next 90 F-35 fighters. The conventional version may be less than $100 million per aircraft, the lowest price yet as jet production ramps.
China — China released import and export data for 2016: imports dropped 5.5 percent; exports also fell, some 7.7 percent, which was the second annual decline and the worst since 2009.
---
Thoughts? Leave a comment.