Here's my weekly summary of news items worth noting.
Companies and Products
BAW filter start-up Akoustis Technologies received a purchase order from a first-tier smartphone manufacturer, one of the top five globally. Akoustis will develop two, single-crystal BAW filters covering high-band LTE and 5 GHz Wi-Fi and expects to deliver prototypes before the end of the year.
Anritsu has added software options to the MT8821C radio communications analyzer, enabling RF and physical layer testing of LTE-Advanced Pro user equipment with up to six component carrier, carrier aggregation (6CC CA).
ANSYS acquired 3DSIM, a developer of simulation software for metal additive manufacturing. ANSYS says the combination offers the only complete additive manufacturing simulation workflow in the industry.
At the company's annual investor conference, Ericsson's CEO Borje Ekholm painted a gloomy picture of the company's performance and near-term outlook, pushing out the timing for financial recovery. Ekholm said, "The chase for top line growth led us to take on a number of large transformation projects, with a risk profile we were not used to."
MMIC supplier Guerrilla RF has achieved ISO 9001:2015 certification. Guerrilla RF was formed in 2013 and is privately held.
MACOM reported fiscal Q4 revenue of $166 million, 9 percent above the prior year's quarter but down 14 percent sequentially. Peeling the numbers, the networks segment declined 25 percent sequentially due to what CEO John Croteau described as a "hard pause" in China. The aerospace and defense segment grew 32 percent sequentially, and the multi-market segment was up 9 percent sequentially. Revenue in the December quarter is expected to decline 20 percent from September's revenue, to approximately $133 million.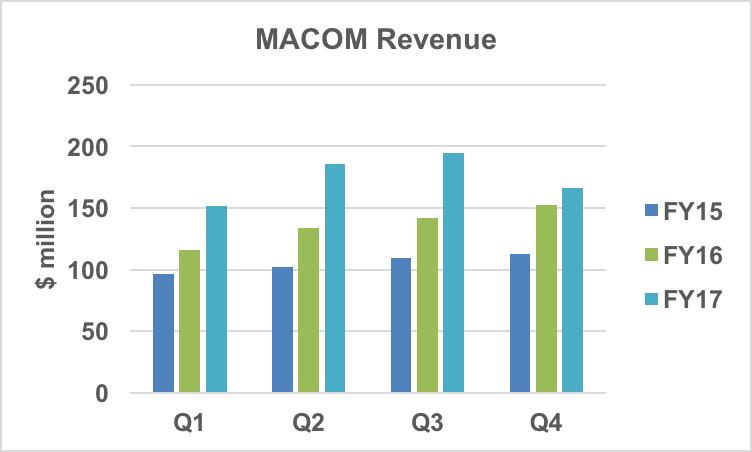 Qualcomm's board rejected Broadcom's takeover offer, saying it "dramatically" undervalues Qualcomm. Broadcom responded in a release saying it "remains fully committed to pursuing its acquisition of Qualcomm." Watch to see if Broadcom tries to elect new directors to Qualcomm's board, enabling Broadcom to force negotiations from inside. Mike Freeman, a reporter at The San Diego Union-Tribune, wrote an excellent review of the currents under the surface of the potential acquisition.
Qualcomm received some good news last week: the company may win EU approval for its acquisition of NXP by the end of the year, according to a report from Bloomberg. To allay regulators' anti-competitive concerns, Qualcomm offered not to acquire some NXP patents.
VIAVI and ThinkRF announced the release of a 27 to 30 GHz down-converter that interfaces with low frequency spectrum analyzers and test equipment. The down-converter enables users to test 5G systems operating at 28 GHz without purchasing expensive millimeter wave gear.
Markets and Technology
Cellular/5G — The Telecom Infra Project held its 2017 summit in Santa Clara November 8-9. The group aims to "collaborate on new technologies, examine new business approaches and spur new investments into the telecom space." Check out the various initiatives here, including the OpenCellular and mmWave Networks projects.
To reduce operating costs, AT&T and Verizon have engaged Tillman Infrastructure to build hundreds of cell towers the two operators will jointly occupy.
AT&T is deploying LTE licensed assisted access (LAA) in areas of downtown Indianapolis, with plans to expand coverage by the end of the year. LAA complements LTE-Advanced, which AT&T began installing in the city this summer.
On the eve of the 3GPP finalizing the non-standalone (NSA) specifications for 5G, NI has published a white paper updating the status of the 5G standards. Download and read the whitepaper.
5G Americas also published a whitepaper, this one analyzes spectrum options to provide the needed bandwidth for 5G. The recommended bands for global harmonization span 3.3 to 4.2, 24.25 to 29.5 and 37 to 43.5 GHz. Download and read the whitepaper.
T-Mobile's CTO, Neville Ray, says the operator will deploy 5G "across the nation" by 2020, using the 600 MHz TV broadcast spectrum T-Mobile won in an auction, paying $8 billion. Listen to his comments:
Broadband — On December 14, the FCC will vote on reversing the net neutrality rules established by the Obama administration. If approved, FCC chair Ajit Pai's proposal will rescind the policy classifying internet service providers as utilities. His proposal has drawn more than 22 million comments.
Autonomous Driving — Isn't it ironic that a self-driving shuttle in Las Vegas was grazed by a truck on its first day of operation. The driver of the other vehicle was at fault. Whew.
Government — The House tax plan passed on November 16 will tax tuition grants and stipends now provided tax-free. Colleges argue it will hurt graduate students, university R&D and science and technology programs.
For those handling data controlled by ITAR or EAR, note the December 31 deadline to ensure your IT systems and processes comply with NIST 800-171, "Protecting Controlled Unclassified Information in Nonfederal Information Systems and Organizations." Read more.
---
Thoughts? Leave a comment below.