11/6/17 Update: Broadcom announced it is, indeed, proposing to buy Qualcomm, releasing a letter to Qualcomm's board. The proposed acquisition, valued at $130 billion, stands with or without consummation of Qualcomm's proposed acquisition of NXP. The ball is now in the Qualcomm board's court. We live in interesting times.
Here's my weekly recap of interesting industry news:
Company and Product News
Apple reported record Q4 revenue of $52.6 billion, which was up 16 percent from the prior quarter and 12 percent above the prior year's quarter. Apple shipped 46.7 million iPhones in the quarter, 14 percent more than the prior quarter and 2.6 percent more than the prior year.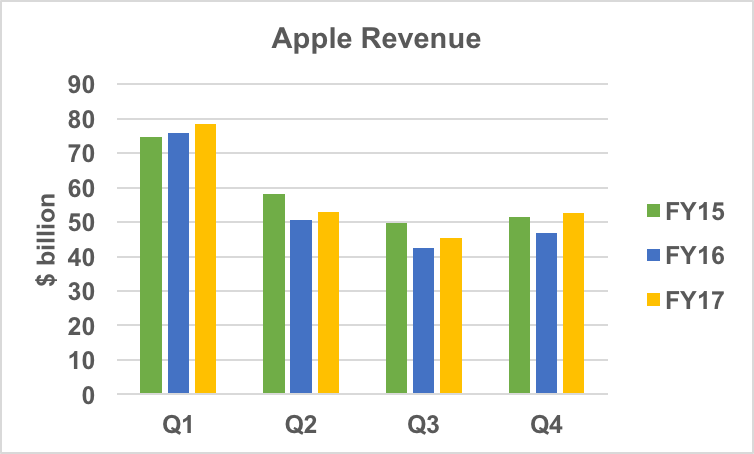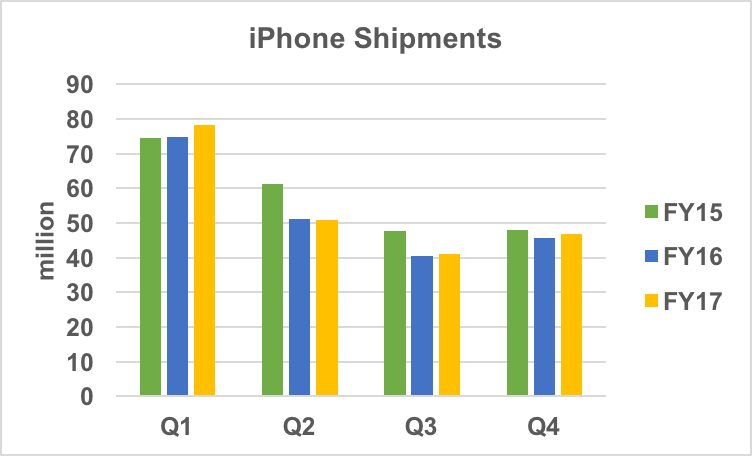 It was an interesting week for Broadcom and its demanding yet unassuming CEO, Hock Tan:
First, the firm announced that revenue for the quarter will be "at the higher end" of guidance.
Then, appearing with President Trump, Hock Tan announced plans to "redomicile" the parent corporation from Singapore to the U.S. — regardless of the outcome of the GOP's proposed tax reform legislation — claiming it will bring $20 billion in revenue back to the U.S.
At week's end, Bloomberg reported that Broadcom is exploring buying Qualcomm in a deal that would top $100 billion and be the largest semiconductor acquisition in the history of the industry.
IDT reported financial results for Q2 of fiscal 2018, with revenue of $204 million, 11 percent year-over-year growth and 4 percent sequentially. Earnings per share (EPS) was $0.35, compared to $0.34 in Q2 of fiscal 2017 and $0.33 in Q1. The communications segment contributed 31 percent of the quarter's revenue ($63 million), growing 11 percent sequentially. Listen to CEO Greg Waters' comments about the communications segment during the earnings call.
As revealed by Waters during the earnings call, IDT has placed a bet on the growth of the millimeter wave market with a $13 million acquisition of SpectraBeam, a fabless semiconductor company developing silicon ICs for millimeter wave applications. The deal gives IDT a foothold in millimeter wave technology, with beam steering products and design capability.
As promised, MACOM is divesting the "compute" segment of AppliedMicro, which MACOM acquired in January 2017. "Project Denver Holdings," a new company backed by the Carlyle Group, is the buyer. The deal structure is interesting: the $36.5 million purchase price will be paid in shares, giving MACOM an equity position in the business.
Nokia Networks reported Q3 2017 revenue was down 6 percent year-to-year (in constant currency), reflecting challenges in North America and China. Nokia is forecasting a 4 to 5 percent decline in the networks market this year.
Qorvo reported Q2 fiscal 2018 revenue of $822 million and EPS of $1.52 beat guidance. The Mobile Products segment rode phone ramps at Apple and in China, and Infrastructure and Defense Products achieved record revenue from strength in the defense, Wi-Fi and IoT markets. Details here.
Skyworks announced the first in a family of integrated Wi-Fi front-end modules for the 2.4 and 5 GHz bands. The SKY85812-11 integrates a 5 GHz bypass LNA with SPDT T/R switch, 2.4 GHz bypass LNA with SP3T switch, Bluetooth port for Wi-Fi antenna sharing and 2 GHz LTE coexistence filter and diplexer.
WIN Semiconductors has enhanced their NP25 power GaN on SiC process to increase power density, power-added efficiency and gain. At 10 GHz, the process provides saturated output power of 5 W/mm, greater than 65 percent power-added efficiency and 19 dB linear gain.
Market and Technology News
Technology — Rice University researchers report that lightweight nanotube fiber antennas match copper for radiation efficiency at 1 and 2.4 GHz.
Cellular/5G — A teardown of the new iPhone 8 reveals a Qualcomm Snapdragon modem, Skyworks SkyOne SKY78140 FEM, Skyworks quad-band GSM PA, two Skyworks switches and a Broadcom/Avago FEM (8072JD130). Read more here. The iPhone 8 and iPhone X appear to lack 2.5 GHz higher power capability (HPUE) and 600 MHz band coverage, unfortunate for Sprint and T-Mobile, respectively.
There are several possible architectural migration paths to 5G. Zahid Ghadialy, author of The 3G4G Blog, outlines a few of these in this recent post.
Broadband — CableLabs released a full duplex version of the DOCSIS 3.1 specification, which establishes the framework for symmetrical 10 Gbps data rates. The current DOCSIS 3.1 spec defines 10 Gbps down and 1 to 2 Gbps up.
Autonomous Driving — In a briefing for journalists, Waymo demonstrated the state of its self-driving technology at its test facility in Atwater, California. Waymo is bullish, designing for SAE level 4, which eliminates the driver. John Krafcik, Waymo's CEO. says, "We're really close."
Technology and Society — Some 100 boxes of historic papers belonging to William Hewlett and David Packard, founders of HP, were destroyed by the recent Santa Rosa wildfires. The collection, stored at Keysight's Fountaingrove site, was valued at $1.9 million. In a release, Keysight stated their storage "exceeded the strictest standards for archival protection, including guidelines set by the United Nations and the Library of Congress." Arguably, the fire was a black swan event.
Kymeta and Intelsat are providing internet access to hurricane devastated and disconnected areas of Puerto Rico. Kymeta's satellite-based internet access has enabled more than 400 claims to FEMA, phone calls to distant relatives, withdrawals from pop-up ATMs and medical assistance.
Einstein is well-known for E = mc2. Did you know he designed a refrigerator and a hearing aid? Read the story.
---
Thoughts about the news? Leave a comment.