I'm back in the office after the European Microwave (EuMW) conference and a week's vacation in Italy, resuming my weekly recap of interesting industry news.
Companies and Products
Anokiwave announced a 256-element active array operating at 28 GHz, developed in collaboration with Ball Aerospace. The AWA-0134 array, driven by Anokiwave's AWMF-0108 silicon quad-core IC, is an extension of the 64-element array (AWMF-0129). Both arrays enable rapid prototyping of 5G systems. The AWA-0134 includes an integrated controller that steers the beams to predetermined positions within a wide scan volume with minimal latency.
Anritsu released a software option for the MT8862A wireless connectivity test set, enabling testing WLAN devices while they are operating, even with secure WEP, WPA-Personal and WPA2-Personal encrypted connections.
Combining their respective capabilities, API Technologies and Analog Devices (ADI) are teaming to chase U.K. and European defense programs. API will provide a U.K. base for developing and manufacturing multi-function assemblies and subsystems, integrating ADI's RF and signal processing products.
After going into bankruptcy, point-to-point radio supplier DragonWave was acquired by Transform-X. Renamed DragonWave-X, the reborn company will focus on 5G backhaul, leveraging IP held by Transform-X.
Ericsson reported a tough Q3: Networks revenue declined 4 percent from the prior year's quarter, and total revenue was down 6 percent. The company continues to cut costs and staff and looks to sell non-strategic businesses, while investing in 5G. Capturing a share of China's 5G market is key to turning the company around.
Modelithics released v17.3 of the COMPLETE+3D Library for HFSS, adding 40 "Microwave Global Models" from 14 suppliers. The v17.3 release includes a sample set of full-wave 3D models for EM simulation.
National Instruments (NI) reported record Q3 revenue of $321 million, growing 5 percent above the prior year's quarter. The company said the revenue growth reflects increasing market share. Net income was $0.32 per share, up 30 percent year-over-year. To grow revenue and profitability, NI is focusing on semiconductor test, 5G, automotive and the industrial IoT.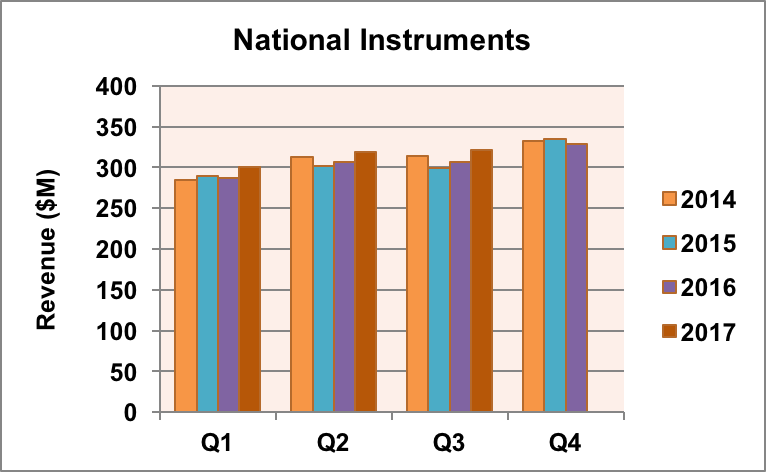 Qorvo announced an expanded wireless infrastructure portfolio for the recently auctioned U.S. 600 MHz band. T-Mobile paid $8 billion to secure nationwide coverage of the spectrum that was used by TV broadcasters. Qorvo's five new linear driver amplifiers complement six LNAs and three digital variable gain amplifiers (DVGA).
Qualcomm's RF front-end venture is also targeting the 600 MHz band, sampling PAs, an adaptive aperture tuner, duplexer and diversity receive filter.
Resonant signed an agreement with a third SAW foundry, adding filter manufacturing capacity to support its fabless business model. The unnamed foundry also offers GaAs processing.
Wolfspeed reported fiscal Q1 2018 revenue of $66.2 million, up 33 percent from the prior year's quarter and 9 percent sequentially. Gross margin increased to 49 percent, reflecting higher fab utilization. The company said the year-over-year revenue increase resulted from a 17 percent increase in unit volume with a 22 percent increase in ASP.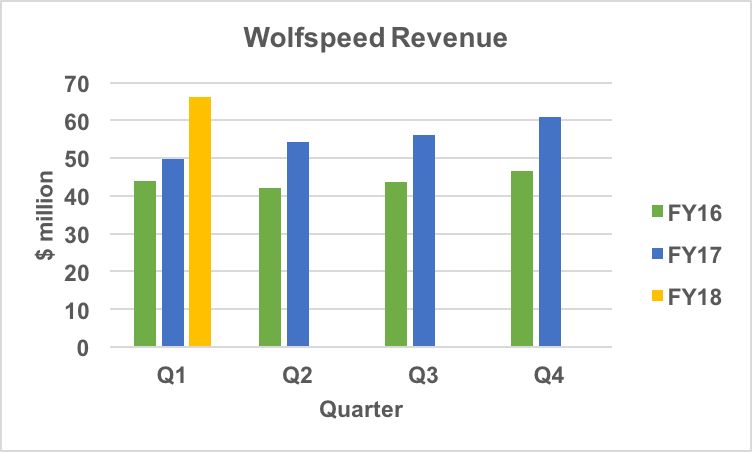 Markets and Technology
Cellular/5G — In a real world field trial, Project Loon is providing cellular and internet service to hurricane-devastated areas of Puerto Rico. The company is working with Apple, AT&T, Liberty Cablevision (Puerto Rico's cable operator) and SES Networks (operator of the O3b satellite constellation) to link their balloons. Apple updated iPhone settings to activate Band 8 (900 MHz), where the Loon-based service operates.
In Q3, the smartphone market in India grew 23 percent year-over-year to some 40 million units, overtaking the U.S. to become the second largest smartphone market behind China. The top five phone suppliers were Samsung (9.4 million units), Xiaomi, Vivo, Oppo and Lenovo, accounting for 75 percent of total shipments in India. Apple shipped approximately 900,000 iPhones.
As part of the EU's 5G Action Plan, ZTE, Wind Tre and Open Fiber plan to build Europe's first pre-commercial 5G network, in Italy. The network will operate in the 3.6 to 3.8 GHz band, with the trials conducted in the Italian provinces of L'Aquila and Prato.
Will Alexa, Google and Siri kill off the smartphone? Doug Dawson of CCG Consulting thinks so. Who needs an app when a smart, voice-activated assistant responds to your commands? Read his reasoning.
Broadband — Verizon's CFO, Matt Ellis, confirmed the company's plans to launch millimeter wave fixed wireless access services in 2018. Ellis said trials are exceeding expectations and have revealed that line of sight is not required and service can be delivered to buildings taller than 20 stories.
Autonomous Driving — Ride-hailing service Lyft will launch self-driving car rides this year, beginning in Boston. While the cars will be self-driving, test drivers will be in each car. Lyft is promoting an open software platform to enable the service to use multiple car makes, including nuTonomy, GM and Land Rover.
nuTonomy will be acquired by Delphi for $400 million plus $50 million in earnouts. nuTonomy's ~100-member staff will double Delphi's autonomous driving team.
Last Word — Do you find that you can be more productive and creative working in a coffee shop rather than your office? This article in the Harvard Business Review explains why.
---
Thoughts? Leave a comment below.