It was a busy week in Barcelona, as the 2017 Mobile World Congress (MWC) held court. You'll see a number of the announcements highlighted here:
Companies and Products
Broadcom reported Q1 fiscal 2017 earnings. The revenue from the wireless segment was $1.18 billion, down 13 percent from the prior quarter and 103 percent above the prior year's quarter — the last quarter before Avago's acquisition of Broadcom, hence the big jump. Looking to Q2, wireless revenue will be down sequentially, with the ramp of Samsung's new smartphone partially offsetting the decline in iPhone 7 demand.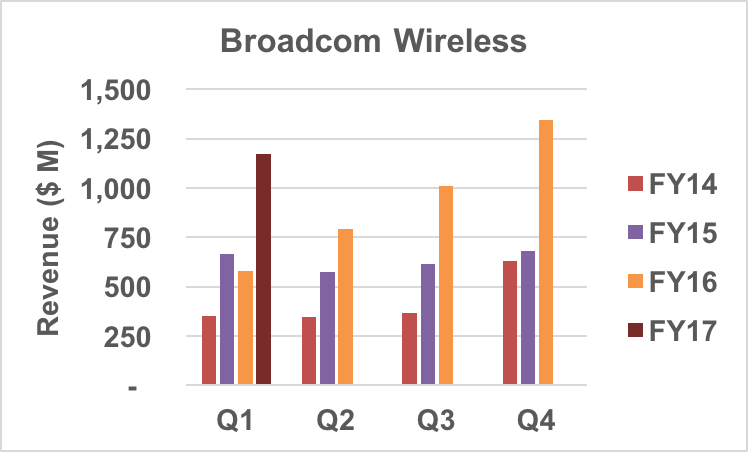 Broadcom's CEO, Hock Tan, frequently makes irreverent comments during the company's earnings calls. This call was no exception, as he was asked by Bank of America analyst Vivek Arya whether the company is investing R&D in emerging markets, such as the IoT and self-driving cars.
Keysight introduced a line of low cost oscilloscopes. The 1000 X-Series offers 50, 70 and 100 MHz bandwidth and "six-in-one" instrument integration options, with pricing from $449 to $849.
MACOM announced an AlGaAs T/R switch for 5G transceivers operating at 28, 37 and 39 GHz. The switch has a under 1.2 dB insertion loss, with 38 dB isolation and 7 W power handling. Bias to the switch can be adjusted to optimize performance.
MaxLinear released an FDD modem for millimeter wave links. The MxL85110 handles up to 10 Gbps each way, 50 MHz to 2 GHz channel spacing and up to 1024-QAM modulation.
Speaking to the Royal Aeronautical Society in London, OneWeb founder Greg Wyler said OneWeb may expand their LEO constellation by 1,972 satellites, a significant jump from the current 648 satellite design. He said the decision will be made by year-end.
At MWC, Qorvo made several smartphone-related announcements: two RF front-end modules for mid-tier phones, four wins in a gigabit smartphone and what they say is the first 5G RF FEM. Addressing infrastructure, Qorvo announced two dual-channel, T/R switch-LNA modules designed for massive MIMO base stations.
To replace TWTs in EW applications, Qorvo announced three new Spatium power amplifiers: 300 W output covering 2 to 6 GHz, 150 W over 2 to 8 GHz and 60 W over 2 to 18 GHz.
Skyworks released the SkyOne® Ultra 3.0 solution for premium smartphones, covering more than 23 LTE bands, power class 2 high power user equipment (HPUE) and the major carrier aggregation combinations. For small cells, Skyworks announced a family of eight, 4 W PAs, covering the cellular and citizen broadband radio service (CBRS) bands from 700 to 3800 MHz.
TowerJazz and the University of California San Diego (UCSD) demonstrated a 28 GHz phased array chipset fabricated with the TowerJazz H3 SiGe BiCMOS process. Using 64-QAM modulation, the array achieved >12 Gbps data rate with less than 5 percent error vector magnitude (EVM) over a 30 m link.
Markets and Technology
5G — 22 mobile companies have proposed accelerating the 5G timeline by a year, adding an intermediate milestone called "non-standalone 5G NR."
At MWC, Nokia announced 5G First, an end-to-end solution to enable operators to conduct 5G trials this year. Using Intel's 5G modem, the system meets Verizon's pre-5G specs.
FCC chairman Ajit Pai spoke at MWC, describing the steps the U.S. is taking to enable 5G and arguing for "light-touch" regulations — a preview of unwinding the last chairman's approach to net neutrality. Watch Pai's speech.
Mobile World Live produced a video recap of 2017's MWC, which you can watch here.
Broadband — 802.11ax, the new Wi-Fi standard, is designed to improve the user's experience in crowded venues. 802.11ax routers should be released by year-end, although it will take several years before user equipment and venues are equipped with the technology. You'll find two tutorials here and here.
Autonomous Driving — Should the auto industry develop standard operating software for self-driving cars that everyone adopts? Or will that apprach slow innovation? Read an instructive New York Times article.
Defense — The Miniature Air-Launched Decoy-Jammer (MALD-J) with the GAINS II upgrade was recently validated in flight tests at the White Sands Missile Range. GAINS II is designed to improve MALD navigation when GPS is jammed.
Last Word — While progress attracting women to engineering careers is slow and disappointing in the U.S., the University of Connecticut has been making gains. They are showing that starting early pays off.
---
Thoughts? Leave a comment below.